This post may contain affiliate links. As an Amazon Associate, I earn from qualifying purchases. Doing so allows me to create more unique content and recipes for you.
This post is sponsored by The National Frozen & Refrigerated Foods Association (NFRA). Thank you for supporting the brands that make Bobbi's Kozy Kitchen possible!
This Instant Pot Crustless Quiche Lorraine recipe is super delicious, stupid easy to make, and tastes amazing. Not only that, it is low-carb/Keto friendly and gluten-free!
So my darling foodies, are you ready to whip out that instant pot and make breakfast?
Does this come as a shock to you?
I have been so busy making deeelicious dinners in my IP I was clueless that is could be used for breakfast. Until a friend of mine Jenn, from
Peas and Crayons
, posted a crustless quiche/frittata recipe and I was like, "WHAT?"!
And then I was like, "GENIUS!"!
Why shouldn't we be using it for breakfast, and a crustless quiche/frittata is perfect.
Can I keep it
?
with you?
Frittata and crustless quiche has been one of those breakfasts I love but I notoriously burn the bottom
?
I have not burned one since I started using my Instant Pot.
Yay!!!
Of course, if you want the perfect crustless quiche, you need to make sure you use the best ingredients right?
I had applewood smoked bacon from our local butcher, freshly grated cheese from an Oregon cheesemaker, and my favorite eggs in the whole wide world,
Eggland's Best Eggs
!
Now, I am sure there are some of you that think eggs, are eggs, are eggs. But I am here to say, "No no no my friend! There is a difference, and a big difference it is!
Why are Eggland's Best Eggs better?
I am glad you asked!
Let me break it down for you.
Eggland's Best Eggs are;
100% All-Vegetarian Feed
Never fed hormones, antibiotics, steroids, animal by-products, recycled, or processed foods.
Farm Fresh
Excellent Source of Vitamins D & E
Excellent Source of Vitamins B2, B5, B12
25% Less Saturated Fat Than Ordinary Eggs
115mg Omega-3 (EB Large eggs)
Plus they just taste super ding dang good
?
So, like I said, this is stupid easy.
Bacon, onions, and cheese in the pan.
Top it with the egg mixture.
Pop it in the Instant Pot.
Once the quiche is all done in the Instant Pot, you can add more cheese, and bacon, and pop it under the broiler to melt the cheese.
You can go a bit longer if you want the cheese to brown and crisp up a bit.
I have a broken foot so the Mr had to take things back and forth for me and he was afraid he would leave it under the broiler too long.
I don't know about you but I love me some browned bubbly cheese!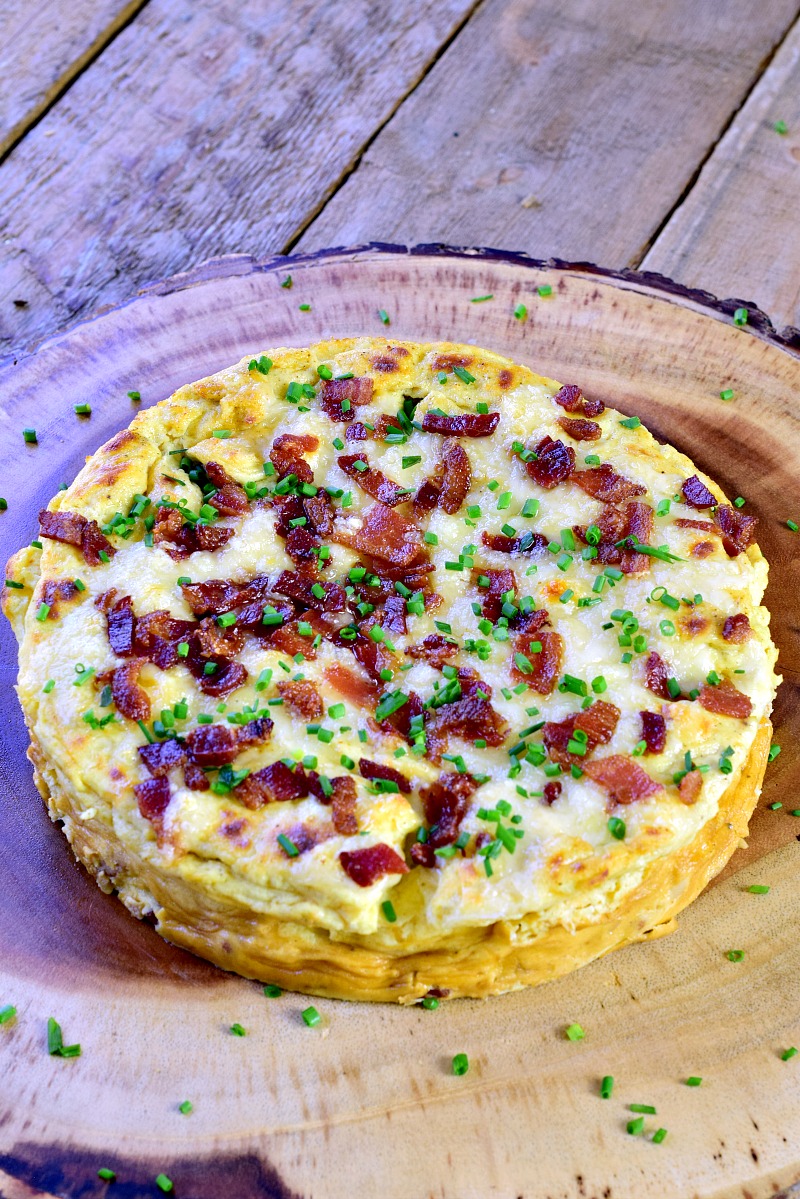 How gorgeous is that???
Almost too pretty to eat.
Notice I said "almost" because I scarfed down a piece of it as soon as these photos were taken!
Just between you and me?
I had another small piece after I finished the first one. I just couldn't help myself
?
This quiche makes 4 servings (2 eggs each) but, if you are a two-person family like us, you can wrap the leftovers up and then when you are ready for more, microwave your piece. I would do 30 seconds at a time until you reach the desired temperature.
P.S. if you have more cheese throw it on there before you microwave it.
OhhEmmGeeee cheesy heaven!
Yield: 4 servings
Instant Pot Crustless Quiche Lorraine
This Instant Pot Crustless Quiche Lorraine recipe is super delicious, stupid easy to make, and tastes amazing. Not only that, it is low-carb/Keto friendly and gluten-free!
prep time: 10 mins
cook time: 33 mins
total time: 43 mins
Ingredients:
8 slices bacon, diced

1/2 large onion, diced

2 cups (8-ounce block) freshly shredded Swiss cheese, separated

8 large Eggland's Best Eggs (I used the Cage-Free)

1 1/2 cups heavy whipping cream

1/2 teaspoon salt (or more to your taste level)

1/2 teaspoon freshly grated nutmeg

1/4 teaspoon cayenne pepper

1 cup water

Fresh chopped chives for garnish
Instructions
Spray 7-inch cake pan or casserole dish with olive oil spray, or coat with butter. Make sure it is very well covered to avoid the eggs sticking.

Cut a circle of parchment paper to line the bottom of the dish for easy removal. *See Notes

In a large bowl whisk together the eggs, heavy cream, salt, nutmeg, and cayenne pepper.

Set the Instant Pot to the medium saute setting. Add the bacon and fry until crisp.

Remove the bacon with a slotted spoon and set

it

aside on a paper towel.

Add the onion to the pot and saute until soft, about 3 minutes. Remove cooked onions with a slotted spoon and place them in a bowl.

If any bacon fat remains in the liner allow it to cool a bit and wipe it out with a paper towel.

Sprinkle the cooked bacon (reserving some for garnish if wanted), 1 1/2 cups of the Swiss cheese, and onions in the dish/pan and pour the egg mixture over them.

Place the liner back into the pot and pour the water into it.

Put the pan on the Instant Pot rack/trivet and carefully lower it into the Instant Pot with the handles. If your trivet does not have handles, you can make a

handle with folded aluminum foil

.

Lock the lid and set your Instant Pot to 25 minutes high pressure. Make sure the vent is in the sealed position.

Once it beeps, allow a natural pressure release for 10 minutes before using the quick pressure release to remove any remaining pressure.

Open the lid and carefully remove the cake pan from the pressure cooker. Pat any water off the top with a towel.

Top with the remaining 1/2 cup of shredded Swiss cheese. Place under a broiler for 5 minutes or until the cheese has browned a bit. Run a knife around the edges of the quiche and allow it to cool before carefully placing a plate over the top of the quiche. Turn it out onto the plate and then turn it over again onto the serving plate.

Top with the remaining cooked bacon and chopped chives.
NOTES:
Trace around the bottom of the pan to get the size of the parchment paper circle you need to put into the bottom of the pan. Spray, or grease the parchment paper.
Create Nutrition Labels
If you like this recipe, you might also enjoy these.
Still looking for some fabulous recipes? Give these recipes from some of my favorite bloggers a try!
Like what you see? Please leave me a comment!
Planning on making one of my recipes? Nothing would make me happier! Take a photo and share it on Instagram or Twitter and tag @BobbisKozyKtchn I would love to see what you made. You might even make it into our newsletter!!
Thank you for reading and supporting companies I partner with. Doing so allows me to create more unique content and recipes for you.
This post contains affiliate links. As always, all opinions are my own.