This fresh mixed berry salad recipe is ridiculously easy to make, low carb, and the perfect side for all of your picnic or BBQ dishes!
One of the first things I want, when the spring and summer BBQs start going down, is fruit salad.
I have a sweet tooth, I will admit it, but it is not your typical sweet tooth.
I am not a cake, pie, or cookie person really, and chocolate? Hhmmm I can take it or leave it.
But fruit?
OhhEmmGeee people, I love it!!
Then I went low carb and was like "Oh crap! What can I do now?".
My rainbow fruit salad was a go-to dish that I took to all of the parties we went to but, with over 40 grams of carbs per serving, it was a big ol' no-no now!
So I did my research.
Berries are on the "yes" list for low carb, which made me so uber happy because berries are my fave fruit.
I call it a dip but I have used a spoon to eat it more often than not.
It is awesome on keto shortbread cookies, and I live for it on low carb pancakes.
I could eat berries every single day of my life!
We have been giving our Traeger a workout since the weather has been cooperating.
Here in Western Washington, we worship the sunshine when we get it and that means we BBQ any time the weather permits.
Don't get me wrong, we will grill in the rain, but, when the sun is shining, the back deck and our BBQ calls to us like a sirens call.
Only it ends up with yummy food, not death and destruction
?
Then my daughter in law told me that she wanted to start eating low carb.
I knew she loves fresh berries, and the g-baby loves strawberries, so this salad HAD to happen for our next BBQ.
So I pulled out that old fruit salad recipe and got my noggin' to workin'.
I had already low carbed my
Roasted Strawberry BBQ Sauce
, and have a Blueberry BBQ Sauce coming soon, so I knew this salad was going to happen.
Once I made it, I was SO happy I did.
Then promptly worried that I would want to hide in a closet and eat the whole bowl myself!!
No worries, I didn't.
But boy did I want to!!
Now, let's take a minute and talk about a 4 letter word.
CARB
I know that, with 6 net carbs per serving, this is by no means a strict keto recipe.
Most keto diets call for you to stay under 20 net carbs (sometimes 30) per day.
So I know a lot of keto peeps wouldn't want to "spend" carbs on this.
BUT I do know there are berry lovers out there like me that would gladly manage a day's worth of carbs so they could enjoy a serving of this mixed berry salad once in a while.
Staying strictly keto is super hard for me because no one else in the fam is eating that way. So I made the choice to take a more lower the carbs approach.
I strive to stay below 50 net carbs a day.
My weight loss has stalled a bit, but I still feel good, so I think it was a good move for my lifestyle.
I have lost 30 pounds since I started cutting carbs, and am keeping it off.
Plus I have more energy, think more clearly, and don't crave the crappy stuff I used to want all of the time.
Now?
I crave treats like this awesome berry salad.
How can that be a bad thing?
Seriously.
If loving this salad is wrong, I don't wanna be right!!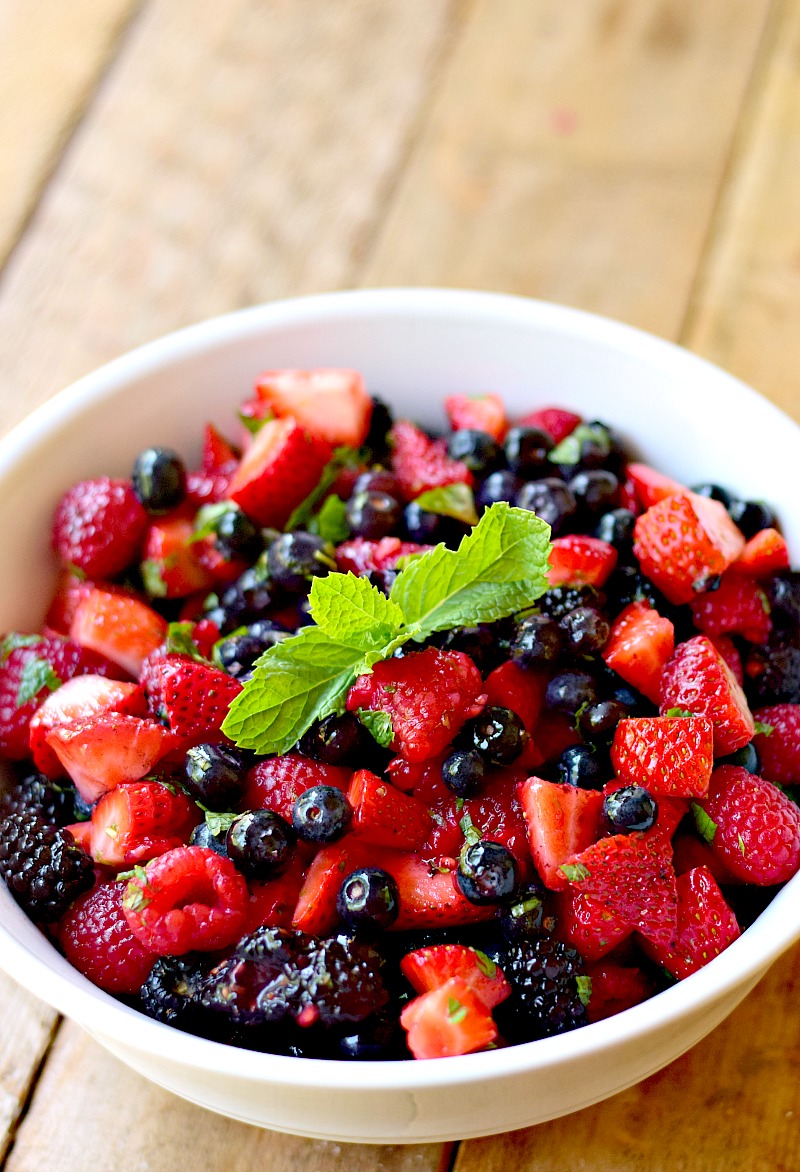 Mixed Berry Salad
prep time: 10 M
cook time:
total time: 10 M
This fresh mixed berry salad recipe is ridiculously easy to make, low carb, and the perfect side for all of your picnic or BBQ dishes!
ingredients:
16 ounces fresh strawberries hulled and chopped
12 ounces fresh blueberries
8 ounces fresh blackberries
4 ounces fresh raspberries
1 lime zested and juiced
6 drops of Better Stevia Liquid
2 tablespoons fresh mint leaves, chopped
instructions:
How to cook Mixed Berry Salad
In a large bowl, combine all of the berries.
Combine the remaining ingredients in a small bowl or mason jar, whisk or shake to combine.
Pour the dressing over the berries and toss to combine well.
Nutritional information is provided as a courtesy and is approximate only. We cannot guarantee the accuracy of the nutritional information given for any recipe on this site. Erythritol carbs will not be included as it has a glycemic index of 0 (meaning it does not spike blood sugar) and it's not metabolized. Net carbs are the total carbs minus fiber.
All recipes and their respective images are original and the sole property of Bobbi's Kozy Kitchen ©, with all rights, reserved.
Like what you see? Please leave me a comment!
Planning on making one of my recipes? Nothing would make me happier! Take a photo and share it on Instagram or Twitter and tag @BobbisKozyKtchn I would love to see what you made. You might even make it into our newsletter!!
Thank you for reading and supporting the companies I partner with. Doing so allows me to create more unique content and recipes for you.
This post contains affiliate links. As always, all opinions are my own.