This post may contain affiliate links. As an Amazon Associate, I earn from qualifying purchases. Doing so allows me to create more unique content and recipes for you.
This keto friendly low carb berry cream cheese cookie recipe is easy to make and has less than 2 grams net carbs per cookie!
Hey gang!
Are you shocked to see a cookie recipe?
I know, I don't bake much.
Plus I am not a huge sweet tooth person.
But when the craving hits it hits HARD!
Being low carb that can set off all sorts of bells and alarms.
Danger Danger Will Robinson!!
The Mr. is addicted to Oreos and has them just about every night. That doesn't really bother me until a sugar craving hits and then I am like
?
while he is munching away.
I will admit that I have broken down a few times and sucked down a couple Oreos.
Not proud of that fact, but I am only human right?
Then I looked up the carb count and saw there were 16 grams of carbs in those dratted things!!
I know I am not strict keto, I stay more low carb, so I try to keep my carbs under 50 grams per day. But, unless I have been uber good, those 16 carbs can kick my day right in the ol' keester!
So a low carb cookie treat was much needed.
I have a couple cookie recipes here on the blog that I am going to convert to low carb, but sugar cookies were calling my name. I knew they would go well with the other things I have been craving.
I have been on kind of a berry kick lately. Berries are the fruit that fit into my low carb lifestyle nicely and they have been so front and center at the grocery store right now.
And cheesecake.
Cheesecake is that dessert that will call to me in my sleep!
So, the result of my cravings ended up as these delicious beauties
?
I was super happy with how they came out.
I mean like a proud Momma gazing over her awesome kids.....
OK, that was weird, I know.
But it gets the point across right?
Bonus?
My non-keto other half loves them!
I was worried he wouldn't but it was worry for nothing.
He grabbed one, gobbled it up, then grabbed another and, with cookie in mouth he said, "Wow these are awesome!".
Yes, he is rude and unrefined, but he is mine
?
I think I will keep him!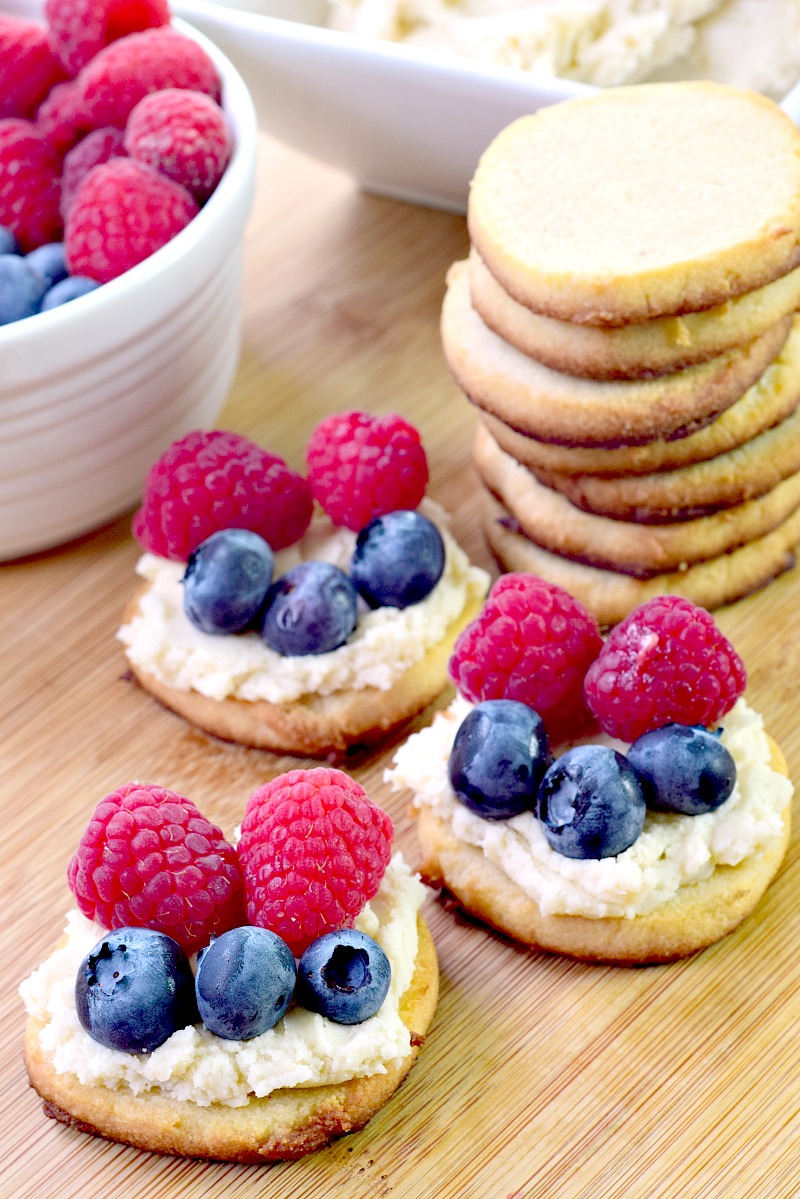 So, let's break this down, shall we?
Low carb/keto friendly
Easy to make
Delicious
Your non-keto peeps will love them
Now, what are you waiting for?
Get in that kitchen and bake for goodness sake!!
Low Carb Berry Cream Cheese Sugar Cookies
prep time: 35 M
cook time: 10 M
total time: 45 M
This keto friendly low carb berry cream cheese cookie recipe is easy to make and has less than 2 grams net carbs per cookie!
ingredients:
3 ounces fresh blueberries
5 ounces fresh raspberries
instructions:
How to cook Low Carb Berry Cream Cheese Sugar Cookies
Place the almond flour, coconut flour, powdered erythritol, baking powder, and xanthan gum in a food processor and pulse a few times to combine. Add 1/2 cup softened butter and process until a smooth dough is made.
Remove the dough from the food processor and roll into a log (about 2 1/2 inches in diameter) and wrap in cling wrap. Place the dough in the freezer for about 30 minutes.
Preheat the oven to 350 degrees F.
Place parchment paper or a silicone mat on 2 baking sheets.
Remove the dough from the freezer and unwrap. Using a sharp serrated knife, slice the dough into 1/4 inch discs (about 24) and place 12 discs on each baking sheet, spacing them out evenly.
Place one baking sheet in the refrigerator, place the other in the preheated oven and bake for 8 to 10 minutes, or until the cookies begin to turn golden brown around the edges.
Remove the baking sheet from the oven and set aside to cool. Place the remaining baking sheet in the oven and bake as before.
Allow the cookies to cool completely before handling them. They are very soft and crumbly while they are warm.
Combine the ingredients for the frosting in a medium mixing bowl and mix well with an electric hand mixer.
Frost each cooking with approx 1 tablespoon of the frosting and top with berries.
Refrigerate or freeze leftover cookies.
Calories
91.68
Fat (grams)
8.51
Sat. Fat (grams)
4.01
Carbs (grams)
2.96
Fiber (grams)
1.16
Net carbs
1.79
Sugar (grams)
0.92
Protein (grams)
1.48
Sodium (milligrams)
22.52
Cholesterol (grams)
15.44
Nutritional information is provided as a courtesy and is approximate only.
We cannot guarantee the accuracy of the nutritional information given for any recipe on this site.
Erythritol carbs will not be included as it has a glycemic index of 0 (meaning it does not spike blood sugar) and it's not metabolized.
Net carbs are the total carbs minus fiber.
All recipes and their respective images are original and the sole property of Bobbi's Kozy Kitchen ©, with all rights, reserved.
Low Carb, Cookies
Dessert, Keto
American
Still looking for some fabulous recipes? Give these recipes from some of my favorite bloggers a try!
Keto Cream Cheese Cookies
Like what you see? Please leave me a comment!
Planning on making one of my recipes? Nothing would make me happier! Take a photo and share it on Instagram or Twitter and tag @BobbisKozyKtchn I would love to see what you made. You might even make it into our newsletter!!
Thank you for reading and supporting the companies I partner with. Doing so allows me to create more unique content and recipes for you.
This post contains affiliate links. As always, all opinions are my own.