This post may contain affiliate links. As an Amazon Associate, I earn from qualifying purchases. Doing so allows me to create more unique content and recipes for you.
All the flavors of a BLT, with a delicious basil mayonnaise, in an easy to make appetizer that is guaranteed to please your partygoers!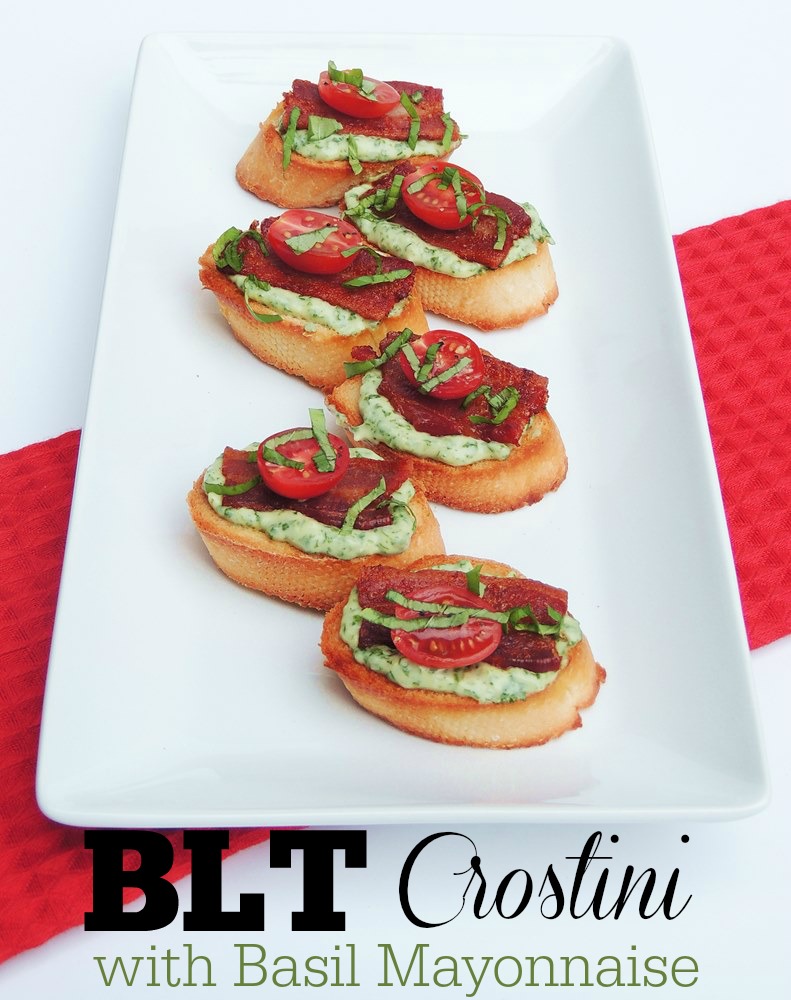 Aaahhh my dear foodie friends. This week Sunday Supper is being hosted by the fabulous Connie from
Foodie Army Wife
and is all about the party.
Not like woohoooo let's party.
I am talking about that nice get-together with friends or family, or friends AND family if you aren't afraid of all of them in the same room sharing stories about you. Hhhmmmmm that's food for thought.
Ya ummmmmm, let's keep them separate for now shall we?
Anywho, as I was saying, Sunday Supper's theme this week is Tantalizing Trays.
Oohhh just the sound of that makes me feel all fancy pants.
Except currently, I am wearing sweats so ya, not so much.
Was that over-share?
I mean aren't sweatpants the uniform of the day for food bloggers? Or is that just me?
I promise I will change before the party!
I
am not sure if you know, but yesterday, according to
The Nibble
, was National Bacon Day. Which, to a food blogger, is a holy day. I mean seriously? A day set aside to celebrate that wonderful porky, salty, tasty loveliness that is bacon? Aaaahhh yes! I even wore clean sweatpants!!
In the days leading up to this foodalicious holiday, major amounts of bacon were cooked and consumed in my kitchen.
Nowwwww you are getting the whole sweatpants thing aren't ya? I made
BLT Potato Salad
,
Crab Puppies
(which contain crab, bacon, AND beer!), and yesterday it was
BLT Hot Dogs
which were simple but OhhEmmmGeeee awesome
?
!!
Then I made these bad boys, and trust me they are baaaaaaaaaaaaaad boys because I seriously wanted to eat the whole tray myself. That is 24 crostini people!
That is how amazeballs these babies are.
I guess I shouldn't make things like this when I am alone right?
But when I have a big spread of food I have cooked up for the blog, and Kevin isn't here to dig in with me, my mother suddenly pops into my head and I hear her telling me that I shouldn't waste food because there are starving children in Africa so I had to clean my plate. At 10 years old I used to argue with her and whine for hours.
I also told her once that I would be happy to box my Brussels sprouts up and ship 'em to those hungry kids. Notice I said once? Ya, I couldn't sit down for a while after that sassy little moment.
Now, at 50 years old, I finally am respecting her wishes. (OK let's go with that). So I had to eat them! Plus, I didn't have a box handy to ship them in.
The basil mayonnaise in these is enough in itself to send me over the moon.
I could slather that all over everything I eat for the next month with no complaints.
It is creamy, and garlicy and basily, and yes I am making up words right now but it is my blog so I am entitled.
Plus how in the heck am I supposed to get their deliciousness across to you without them? I mean, I wish you could just lick your screen, but that would be weird. Plus if you are currently at work it might just land you in the boss's office with them wanting you to pee in a little cup.
MORE DELICIOUS APPETIZER RECIPES
BLT Crostini with Basil Mayonnaise
All the flavors of a BLT, with a delicious basil mayonnaise, in an easy to make appetizer that is guaranteed to please your partygoers!
Ingredients
2

cups

fresh basil

packed, plus 1/2 cup chopped for garnish

3/4

cup

mayonnaise

1

tablespoon

fresh lemon juice

2

cloves

garlic

grated or minced, plus 1 peeled clove

Kosher salt

1

baguette

6

slices

of bacon

12

grape tomatoes

halved
Instructions
Combine 2 cups basil, lemon juice, garlic, and salt in a food processor until smooth. Adjust seasoning if needed.

In a large skillet, cook bacon over medium heat until crisp. Allow to cool and cut into approx 2-inch pieces (should have 24 pieces). Reserve bacon fat.

Heat oven to 350 degrees F.

Slice the baguette into 24 1-inch slices and brush with the bacon fat on both sides.

Bake the bread slices until golden brown, about 7 to 10 minutes, turning once. Remove from the oven and rub one side with the peeled clove of garlic. Set aside.

Season tomato halves with salt and pepper.

Spread each bread slice with some of the basil mayonnaise, top with a slice of bacon and then a grape tomato half.

Sprinkle with chopped basil.
Disclaimer
Most of my recipes are low-carb (or keto) and gluten-free, but some are not. Please verify that a recipe fits your needs before using it. Recommended and linked products are not guaranteed to be gluten-free. Recipes may contain errors, so please use your common sense when following them. Nutritional information is provided as a courtesy and is approximate only. We cannot guarantee the accuracy of the nutritional information given for any recipe on this site. Erythritol carbs will not be included as it has a glycemic index of 0 (meaning it does not spike blood sugar) and it's not metabolized. Net carbs are the total carbs minus fiber.
If you like this recipe please leave a comment!
If you make this recipe, take a photo and share it on Instagram with the hashtag #BobbisKozyKtchn I love to see what you make. You might even make it into our newsletter!!
Thank you for reading and supporting the companies I partner with. Doing so allows me to create more unique content and recipes for you.