This Keto Maple Mustard Roasted Turkey Breast is the perfect sugar-free alternative to a whole turkey. Tender and juicy with fresh herbs and a delicious maple mustard glaze, the recipe is perfect for your holiday table!
Are you still looking for a keto and low carb holiday main dish recipe? Give this Rib Roast with Garlic and Herb Butter or this Herbed Beef Tenderloin Roast with Port Wine Cranberry Sauce a try!
This post contains affiliate links. As an Amazon Associate, I earn from qualifying purchases. Doing so allows me to create more unique content and recipes for you.
Join my newsletter and never miss a recipe!
MORE KETO & LOW CARB MAIN DISH RECIPES
The Perfect Roast Turkey | Greek Style Beef Tenderloin Roast
This Keto Maple Mustard Roast Turkey Breast recipe shows you how easy it is to create a juicy, tender turkey breast for your holiday table. It is perfect for those who don't want to cook a whole turkey this year or prefer white meat of the turkey instead or dark. Make this Mustard Maple Glazed Roasted Turkey Breast and impress your friends and family over Thanksgiving dinner!
I mean, who really wants to fuss and stress over their holiday dinner?
We want to enjoy our family and friends and our time together right?
Oh, don't get me wrong. I have had my fair share of stressing out over a holiday meal!
But now that I am older, and dealing with health issues, I have finally realized that it is more about the people you are with vs what you are putting on the table for them to eat.
So, when I can come up with a recipe that is easy AND full of flavor I tend to get super excited.
This is one of those recipes my friends!
I consider this a MUST make, whether for the holidays, or just a nice dinner at home with the family. I make a whole breast just for the hubs and myself because sandwiches and salad with the leftovers is phenomenal as well!
INGREDIENTS NEEDED TO MAKE MAPLE MUSTARD ROASTED TURKEY BREAST
Detailed measurements and instructions can be found on the printable recipe card at the bottom of the page.
INGREDIENTS
stone ground or Dijon mustard
Worcestershire sauce
boneless skinless turkey breast
butter
garlic paste
fresh rosemary
fresh sage
fresh thyme
HOW TO MAKE KETO MAPLE MUSTARD ROASTED TURKEY BREAST
Please see the recipe card below for the complete recipe, including measurements and cooking time!
STEP 1
Preheat oven to 350 degrees F. Remove the turkey breast from the refrigerator at least 30 minutes to an hour before roasting.
STEP 2
In a small bowl combine the softened butter, garlic, herbs, salt, and pepper until mixed well.
STEP 3
Place turkey on a rimmed baking sheet with a wire rack (or in a shallow roasting pan with a rack) and pat dry. Rub the butter mixture onto the turkey.
STEP 4
Pour the water into the bottom of the pan (this keeps the drippings from burning) Roast the turkey in the oven for about 1 hour (20 minutes per pound or until the breast reaches 160 degrees F).
STEP 5
30 minutes through cooking, brush the turkey breast with half of the maple mustard glaze. Then brush with the remaining glaze at 45 minutes.
STEP 6
Remove from oven when turkey breast reaches 160 degrees F. Tent the turkey with foil and let rest for 10 to 20 minutes before carving to let juices redistribute. If making gravy, pour the pan juices into a glass measuring cup and reserve.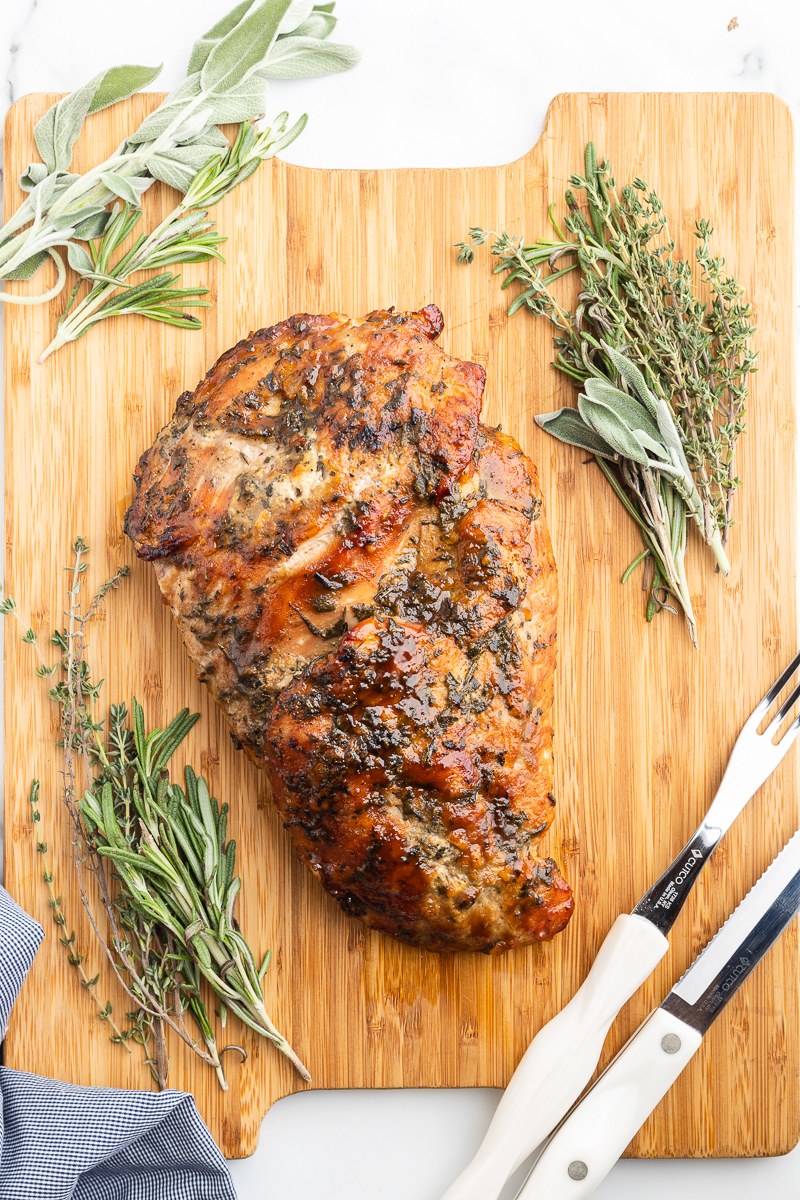 FAQS ABOUT KETO MAPLE MUSTARD ROASTED TURKEY BREAST
Can I use a bone-in turkey breast for this Keto Maple Roasted Turkey Breast recipe? Yes, you can use a bone-in turkey breast. However, the cook time will be different so make sure to keep an eye on the internal temperature.
Do I have to use fresh herbs in this Keto Maple Roasted Turkey Breast recipe? I will say that fresh herbs are always better if you can find them. But, if you can't find fresh, dried will work. Just use 1 teaspoon dried for 1 tablespoon fresh.
Which mustard works the best for the Keto Maple Mustard Glaze? I usually use stone ground or Dijon mustard in my glaze but you can use which ever mustard is your favorite.
Last thoughts about Keto Maple Mustard Roasted Turkey Breast
This recipe is seriously one of my favorite ways to eat turkey.
If it isn't my Perfect Roast Turkey I want this turkey breast on the table!
I mean, look at how juicy that breast is ? SO tender and juicy! And the maple mustard glaze is to die for, seriously! I use it on pork tenderloin and roasted veggies too!
So I am serious, if you are feeling the whole turkey thing this year, or just have a few people to feed, grab a boneless turkey breast (or two) and watch the family devour it!!
MORE KETO AND LOW CARB HOLIDAY RECIPE IDEAS
If you like this recipe please leave a comment!
If you make this recipe, take a photo and share it on Instagram with the hashtag #BobbisKozyKtchn I love to see what you make. You might even make it into our newsletter!!
Thank you for reading and supporting the companies I partner with. Doing so allows me to create more unique content and recipes for you.