This post may contain affiliate links. As an Amazon Associate, I earn from qualifying purchases. Doing so allows me to create more unique content and recipes for you.
Slow Cooker Chicken Stock - Making chicken stock at home is so easy, you will never have to use store bought stock again!
Ahhhhhh the temps have finally begun to normalize here in Western Washington, thank goodness!
It has kind of been a bit of "Be careful what you wish for" summer here.
After a drizzly, cold, gray, winter, I was begging for non-stop sunshine. "If we could only have a real summer".
I guess I should have clarified what a "real summer" was.
By non-stop sunshine, I didn't mean zero rain for weeks on end. Although I do see where that could have been misunderstood. So my bad to my fellow Washingtonians, I should have been more clear on that request.
It really has been almost 2 months since we have had any measurable rainfall. They are actually calling this a drought, and saying that we need to start conserving water! Holy crap! I thought I left that all behind when I moved out of California!!
Anywhoo, I really have no idea why I felt that story went along with this recipe, except maybe for the fact that the weather cooling down is finally allowing me to think about cooking in my kitchen again. I have been dreaming of soups, and stews, and casseroles, etc....
I really wanted to make a big pot of spaghetti with meat sauce, or enchiladas for dinner on Thursday for the kids. But it was grilling again. I keep telling Kevin I will have forgotten how to cook by the time grilling season is over!
Soooooo, what is something that I use in, what seems like, every single recipe I make?
You got it, chicken stock!
But that stuff is so frickin' expensive at the store. Anywhere from $3 to $5, and when you are using 1 to 2 boxes a recipe? Ya, that adds up real fast!
But fear not my friends! Super awesome chicken stock is just a few mere ingredients, and hours away with the help of your handy dandy slow cooker.
I used to make mine in a stock pot, and to me it was a pain in the tukis because you had to watch it to maintain a low boil, skim it constantly, borrrring! I can think of much more exciting things to be doing!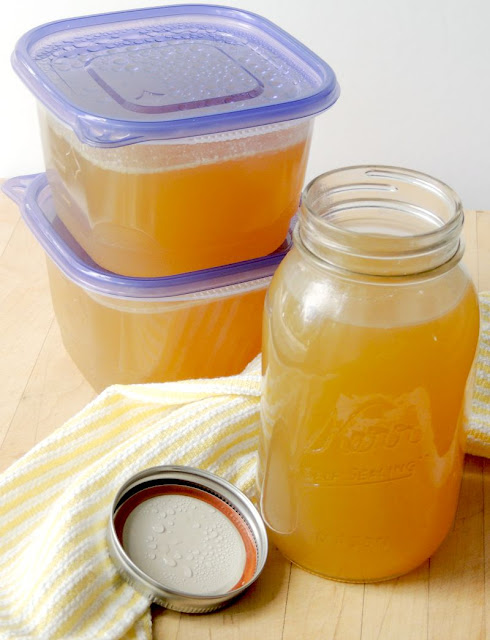 So I started thinking, "Why can't I put my slow cooker to work?". Then I got on the internet and realized that I wasn't the only one with that bright idea, however, I decided that I would bring the idea to you anyway. In case you hadn't tried it, or heard of it before. Plus we all do things a little bit different anyway right?
This will make your life so much easier, and save you money. I am always roasting chickens, so I save those carcasses in a plastic zipper top bag. If you buy rotisserie chicken you can do the same. Or, if you are lucky, you can get your local butcher to save bones for you (whole carcasses, neck, back, etc.). Just toss the equivalent (approx) of one chicken's worth of bones into zipper top bags, and you are one step closer to saving money aannddddd a super delicious stock.
My main reason for making stock this way is that I can control what is going in. I like a lot of herbs, sometimes I add rosemary, marjoram, even oregano (just be careful because oregano is a strong herb), plus I don't use any salt so I can salt the dish as needed. With Kevin having crazy high blood pressure, I am trying to reduce the sodium as much as possible. But what I have found is, with homemade stock, there is so much more flavor that you don't really need to add much salt at all.
How much stock you get will vary a bit. I used a 6 quart slow cooker, a very large chicken, and my veggies. I filled it to the tippy top with water, and ended up with almost exactly 3 quarts of stock. I saved one quart in a glass jar to use now, and then 2 in quart sized plastic freezer containers. That much stock would have cost me up to $15 at the store, and only cost me a couple bucks worth of ingredients to make at home.
So pull out those slow cookers, grab that leftover chicken carcass, and cook up some tasty and healthy chicken stock just in time for some awesome fall soups and stews!
Slow Cooker Chicken Stock
1 chicken carcass
3 carrots, chopped in large pieces
3 stalks of celery, chopped in large pieces
Several sprigs of fresh thyme
5 or 6 fresh sage leaves
1 large onion, quartered
1 large bay leaf
Water
Place the first 7 ingredients in the slow cooker and fill to the rim with water.
Set slow cooker on low for 12 to 18 hours.
Remove the lid and allow to cool.
Place 2 layers of cheesecloth in a mesh strainer over a large pot and pour the stock through the strainer. Discard veggies and herbs.
Pour the stock into airtight container and store in the refrigerator for to 4 to 5 days, or freeze for 4 to 6 months.
Help support this blog by starting your Amazon shopping here. THANK YOU!!
(Turn off your ad blocker to see link)
Like what you see? Please leave me a comment!
Let's stay connected!
| Bloglovin' | Facebook | Twitter | Pinterest | Google+ | Instagram |
Planning on making one of my recipes? Nothing would make me happier! Take a photo and share it on Instagram using the hashtag #BobbisKozyKtchn I would love to see what you made.
If you like this recipe, you might enjoy these as well.