This post may contain affiliate links. As an Amazon Associate, I earn from qualifying purchases. Doing so allows me to create more unique content and recipes for you.
This easy to make creamy low carb turkey stew is the ideal way to use up that leftover holiday turkey, but can easily be adapted to use leftover chicken for a delicious weeknight meal the whole family will love.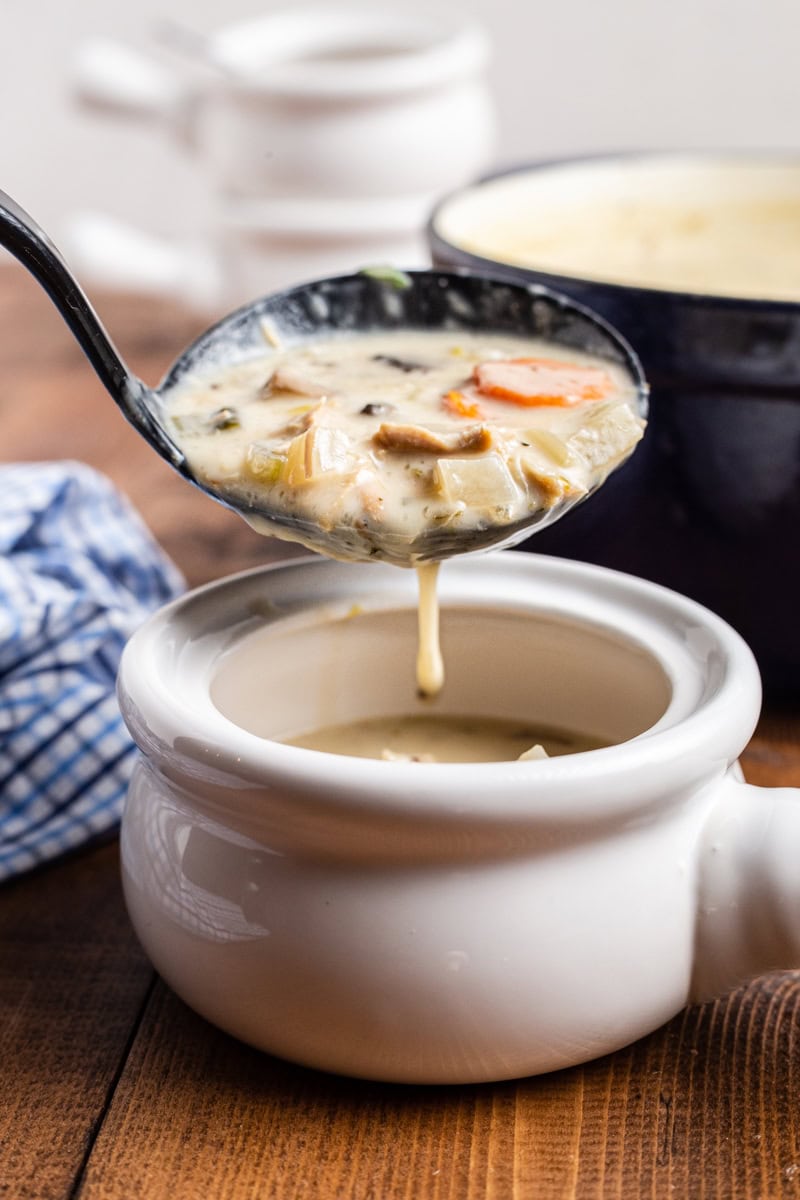 Join my newsletter and never miss a recipe!
I know some people might think it is crazy to get excited about a recipe, but y'all, this is a recipe that got me SO excited!
Like dancing in the kitchen excited.
Like not caring that the dogs and my husband were looking at me like I had completely lost my mind excited.
Yup, that excited!!
Kevin doesn't share my enthusiasm for food.
He is not a huge soup/stew fan usually, and definitely not a leftover soup/stew fan.
I mean, he will eat it, but he is not doing backflips over the whole situation.
However, he called after he got off work the other day.
It was a typical cold rainy fall day here in WA and asked what was for dinner.
I said I was making some leftover stew.
Y'all, he said, "Oh that sounds great!".
'Scuse me what???
Ladies and gents, THAT is excitement coming from him!
Call me a weirdo, but I kinda nerd out when I can really utilize as much as possible from the ingredients.
I freeze all of my bones, and veggie trimming, so I can make broths as bases for all of my soups and stews because they #1 allow me to control what is going into my food and #2 taste so much better in my book.
When I got my
Instant Pot
, making homemade stock/bone broth was first on my list of things to do and I have been doing it non-stop ever since!
INGREDIENTS FOR CREAMY LOW CARB TURKEY STEW
Olive oil
Leek
Garlic
Mushrooms
Turnips
Carrots (optional)
Celery, chopped
Salt
Pepper
Fresh thyme
8 cups turkey bone broth (or chicken)
Cooked turkey
Heavy cream
Xanthan gum
I know this recipe has a few non-traditional stew ingredients in it, but I have been on a mission to really dial in a stew that delivers the flavors our little low carb heart's desire.
We all know onions and potatoes are at the heart of every great stew. But, if you are living la vida low carb, that is a no-go.
So I have played around with different veggies.
Leeks have become my go-to for onions. I love the flavor they bring.
Oh, I still use onions in recipes.
But, when I am cramming a lot of ingredients into something, I opted for the lower carb version and use leeks now.
As for potatoes?
Everyone that has tried it, loves it!
I have also subbed rutabaga for the radish, which we really love as well.
I had been meaning to try turnips, but for some reason never got around to it.
Grabbed them for this and OhhEmmGeee, why did I wait so long?
They by far are the closest to potato in a recipe like this in my mind.
So let my testing be your guide!
FAQ ABOUT CREAMY LOW CARB TURKEY STEW
Can I use raw chicken in this recipe? Sure, I would cut up some boneless skinless chicken thighs into bite-sized pieces and saute it either before you cook the veggies, or remove the veggies from the pot after you cook them, add a little more olive oil, cook until no pink remains, return the veggies to the pot, and continue with the recipe.
I thought carrots were not allowed on keto, why are you using them? If you are strict keto you can omit the carrots. If you are just low carb for weight loss purposes, it is more a matter of your carb count/macro count, so you can decide if you want to keep them in based on that. The net carbs are pretty low in this recipe.
I don't have xanthan gum, can I make this without it? Yes, you can make this without the xanthan gum, it will just be a thinner broth, more like a soup. An alternative could be to add a couple of ounces of cream cheese (cubed) to the finished stew and stir until it melts. Taste and adjust your seasonings. Remember that the cream cheese will change the nutritional values a bit.
Can I freeze the leftovers? Absolutely. I freeze mine in 1 cup portions. Make sure to label them with the name and date so you aren't left guessing a couple months down the line like I have been! I keep soups with dairy for up to 3 months in the freezer.
MORE DELICIOUS LOW CARB RECIPE IDEAS
Leftover Turkey (or Chicken) Soup
Creamy Low Carb Turkey Stew
Prep time: 15 Min
Cook time: 30 Min
Total time: 45 Min
This easy to make creamy low carb turkey stew is the ideal way to use up that leftover holiday turkey, but can easily be adapted to use leftover chicken for a delicious weeknight meal the whole family will love.
Ingredients
2 tablespoons olive oil
1 large leek, halved and sliced
4 cloves garlic, minced or crushed
8 ounces mushrooms, sliced
1 pound turnips, peeled and diced
2 large carrots (optional) , sliced
2 stalks celery, chopped
Salt, to taste
Fresh cracked black pepper, to taste
2 tablespoons fresh thyme leaves, chopped
8 cups turkey bone broth (or chicken)
1 pound cooked turkey meat, cut or torn into bite-sized pieces
1/ cup heavy cream
1 teaspoon xanthan gum
2 tablespoons minced flat-leaf parsley, for garnish
Instructions
Heat olive oil in a large soup pot, or dutch oven, over medium heat, saute the leek until soft and translucent, about 5 minutes. Add the garlic and cook for an additional minute or two.
Add the mushrooms, turnip, carrot, celery, salt, pepper, and thyme, and cook for an additional 5 minutes, or until the mushrooms begin to soften.
Add the cooked turkey and the bone broth. Bring to a boil, then reduce to simmer and cook for 15 to 20 minutes, or until the carrots and turnips are fork-tender.
Bring the heat back up to medium-high and add the heavy cream. Once the stew begins to bubble whisk in the xanthan gum. Continue to whisk often for about 5 minutes, or until the stew begins to thicken.
Remove from the heat.
Serve topped with fresh parsley if desired.
Sodium (milligrams)
364.86
Cholesterol (grams)
238.35
Nutritional information is provided as a courtesy and is approximate only. We cannot guarantee the accuracy of the nutritional information given for any recipe on this site. Erythritol carbs will not be included as it has a glycemic index of 0 (meaning it does not spike blood sugar) and it's not metabolized. Net carbs are the total carbs minus fiber.
All recipes and their respective images are original and the sole property of Bobbi's Kozy Kitchen ©, with all rights, reserved.
Low Carb, Keto, Gluten-free, Soup, Leftovers
Stew
American
Did you make this recipe?
Like what you see? Please leave me a comment!
Planning on making one of my recipes? Nothing would make me happier! Take a photo and share it on Instagram or Twitter and tag @BobbisKozyKtchn I would love to see what you made. You might even make it into our newsletter!!
Thank you for reading and supporting the companies I partner with. Doing so allows me to create more unique content and recipes for you.
This post contains affiliate links. As always, all opinions are my own.