This post may contain affiliate links. As an Amazon Associate, I earn from qualifying purchases. Doing so allows me to create more unique content and recipes for you.
Indulge in the tangy and creamy goodness of this low carb Dill Pickle Coleslaw, the perfect side dish to complement your picnic or keto BBQ. Elevate your outdoor feasts with this zesty recipe and satisfy your cravings for BBQ food with every bite!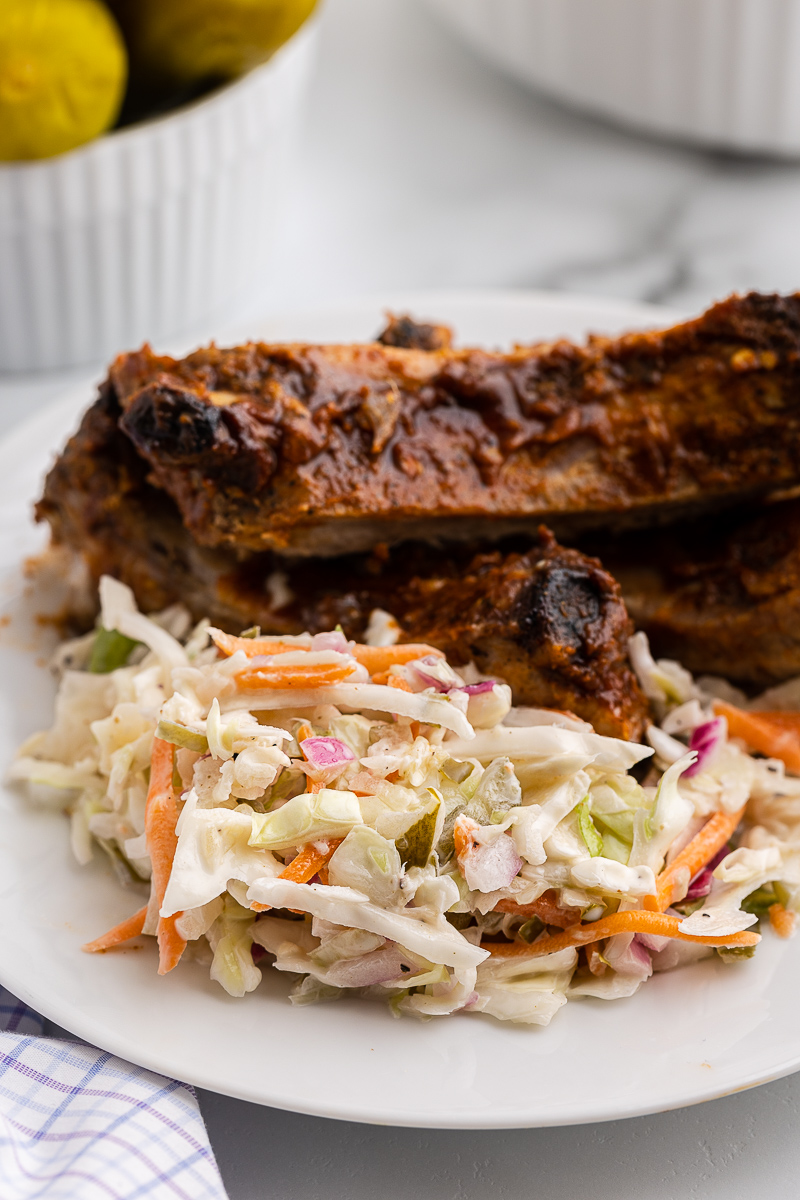 Join my newsletter and never miss a recipe!
Creamy, delicious, and packed with the zesty punch of dill pickles, this low carb and sugar-free dill pickle coleslaw recipe is the ultimate side dish to elevate your outdoor feasts. Living in my little corner of the PNW, we celebrate every moment of sunshine and take our BBQ cravings to the next level!
In Washington, we have an insatiable desire to soak up as much vitamin D as we can when the temperature rises above 70 and the sun graces us with its presence. We practically live outdoors, and that means firing up the grill for mouthwatering creations like Buffalo Chicken Burgers and Grilled Ribeye Steaks with Jalapeno Chimichurri. Anything and everything that can be grilled or smoked is fair game!
Now, let's talk about one of my all-time favorite BBQ and picnic sides: coleslaw. I've adored it since childhood, and let's not even get started on my long-lasting addiction to the Colonel's version. I think I could have consumed gallons of it! But as my taste buds (and rear end) have matured a bit, it was time for an update. So, I put on my thinking cap and got to work.
First things first, I made a few keto-friendly substitutions, swapping regular mayo for its low-carb counterpart and replacing sugar with Besti Monk Fruit and Allulose sweetener. Simple, yet effective.
Now, here comes the fun part. KFC's coleslaw is known for its sugary goodness, so if we're removing the sweetness, we need to infuse it with flavor. And what better way to do that than with the tangy kick of dill pickles?
Coleslaw always finds its place alongside classic dishes like fried chicken (stay tuned for our upcoming low-carb fried chicken recipe) and tender pulled pork. It got me thinking, what goes hand in hand with both of these delicious mains? Dill pickles, of course!
If you've never had dill pickles on a fried chicken sandwich, you're missing out! The tangy, briny notes perfectly complement the crispy, savory chicken. Trust me, it's a flavor explosion you must try ASAP.
Prepare to elevate your BBQ feasts with this tangy and creamy low carb dill pickle coleslaw. Say goodbye to the sugar-laden versions and embrace the bold flavors of dill pickles. Whether you're indulging in juicy fried chicken or savoring tender pulled pork, this coleslaw will be the star of the show. So, grab a plate, head outside, and let the vibrant flavors and warm sunshine of the PNW brighten up your next outdoor gathering!
Jump to:
🥘Dill Pickle Coleslaw Ingredients
These are the ingredients necessary to make Dill Pickle Coleslaw.
Sweetener - I use Besti Monk Fruit and Allulose Sweetener but you can use whatever low carb sweetener you prefer.
Mayo - I use a keto mayonnaise here to keep the recipe as low carb as possible
Shredded Cabbage - you can slice or shred a head of cabbage or grab a package of coleslaw mix. Be aware that coleslaw mix contains a small amount of shredded carrot so it will add a few carbs.
A detailed list with measurements and instructions can be found on the printable recipe card at the bottom of the page.
🔪Dill Pickle Coleslaw Instructions
This is a basic breakdown of the steps involved in making Dill Pickle Coleslaw. You will find the full directions in the recipe card at the bottom of the post.
Place all of the ingredients for the coleslaw in a large bowl.
Combine well.
Hint: Enhance the dill pickle flavor by garnishing the coleslaw with a sprinkle of fresh dill. Its aromatic and herbaceous notes perfectly complement the tangy dressing, adding an extra layer of deliciousness to each bite.
Substitutions
Mayo - you can replace keto mayo with Greek yogurt for a tangy twist. Keep in mind that Greek yogurt may alter the texture and taste slightly, as well as the carb count, so adjust the amount according to your preference.
Sweetener - Instead of Besti Monk Fruit and Allulose Sweetener, you can use your preferred low-carb sweetener of choice, such as erythritol or stevia. Adjust the amount to achieve your desired level of sweetness.
Vinegar - While white vinegar is traditionally used in coleslaw recipes, you can experiment with other vinegars like apple cider vinegar or rice vinegar to add a different flavor profile to your dill pickle coleslaw.
📖Variations
Spicy Kick - If you enjoy a spicy twist, add a touch of heat by incorporating finely diced jalapeños or a sprinkle of cayenne pepper into the coleslaw mixture. It will give your dill pickle coleslaw an extra kick and elevate the flavor.
Creamy Coleslaw - If you prefer a creamier texture, mix in a dollop of sour cream or heavy cream to the dressing. This variation adds richness and indulgence to the coleslaw, making it a decadent side dish.
Pickle Lovers Delight - Amp up the pickle flavor by adding additional chopped dill pickles or dill pickle spears to the coleslaw. It will intensify the tanginess and provide more pickle goodness in every bite.
Storage
Store the dill pickle coleslaw in an airtight container in the refrigerator. Good for 4-5 days.
These ingredients don't stand up well to freezing.
💭Top tip
To achieve the best flavor, allow the coleslaw to marinate in the refrigerator for at least an hour before serving. This resting time allows the flavors to meld together, resulting in a tastier coleslaw.
FAQ about Dill Pickle Coleslaw
What is the serving size of Dill Pickle Coleslaw?
I know many people are wondering how this serves 12 but a serving of coleslaw is 3 ounces or about 1/3 cup. The calories and carbs are so low you can have more if you want but I stuck to the guidelines for the nutritional info.
Can I make this coleslaw in advance?
Absolutely! This coleslaw actually benefits from some resting time in the refrigerator. Prepare it a few hours or even a day ahead of time, allowing the flavors to meld together for a more delicious outcome.
Can I make this coleslaw dairy-free?
Yes, you can make this coleslaw dairy-free by substituting the keto mayo with a dairy-free alternative, such as vegan mayo or a blend of avocado and olive oil.
More Low Carb & Keto Side Dish Recipes
Looking for other recipes like this? Try these:
What to Serve with Dill Pickle Coleslaw
These are my favorite dishes to serve with Dill Pickle Coleslaw:
Dill Pickle Coleslaw (Low Carb)
Creamy, and delicious, with the zip of dill pickles, this low carb, and keto dill pickle coleslaw is the perfect coleslaw recipe to compliment your picnic or BBQ main dishes.
Instructions
In a large bowl, combine all of the ingredients and toss together until the cabbage is well coated.
Disclaimer
Most of my recipes are low-carb (or keto) and gluten-free, but some are not. Please verify that a recipe fits your needs before using it. Recommended and linked products are not guaranteed to be gluten-free. Recipes may contain errors, so please use your common sense when following them. Nutritional information is provided as a courtesy and is approximate only. We cannot guarantee the accuracy of the nutritional information given for any recipe on this site. Erythritol carbs will not be included as it has a glycemic index of 0 (meaning it does not spike blood sugar) and it's not metabolized. Net carbs are the total carbs minus fiber.
Nutrition
Calories:
43
kcal
Carbohydrates:
3
g
Protein:
0.2
g
Fat:
4
g
Saturated Fat:
1
g
Polyunsaturated Fat:
2
g
Monounsaturated Fat:
1
g
Trans Fat:
0.01
g
Cholesterol:
2
mg
Sodium:
335
mg
Potassium:
16
mg
Fiber:
0.2
g
Sugar:
0.2
g
Vitamin A:
20
IU
Vitamin C:
0.5
mg
Calcium:
2
mg
Iron:
0.1
mg
If you like this recipe please leave a comment!
If you make this recipe, take a photo and share it on Instagram with the hashtag #BobbisKozyKtchn I love to see what you make. You might even make it into our newsletter!!
Thank you for reading and supporting the companies I partner with. Doing so allows me to create more unique content and recipes for you.