This BLT Cauliflower Salad recipe is the perfect low carb and keto-friendly replacement for traditional potato salad. It is the perfect side dish for SO many low carb mains and a favorite of my keto and non-keto friends and family!


Happy Hump Day my darling foodies! I hope this post finds you healthy and safe.
We finally had a window of NO RAIN this past weekend in Western Washington and you know what that means in my household right?
Yup, hubby hits the grill and pretty much lives there ALL weekend!
Since he likes to take control and do his man thing (man/meat/fire) my contribution to that process is usually to provide low carb rubs and sauces like this Low Carb Barbeque Dry Rub, Low Carb Roasted Strawberry BBQ Sauce, and Low Carb Blueberry BBQ Sauce.
All of them are keto-friendly versions of some of my family's favorite grilling and barbeque flavor faves.


So my main job falls to coming up with tasty sides that are low carb for me but enjoyable for all my carb lovers.
I know cauliflower is a safe bet because not only the hubs, but even Mini Me has told me that she can't tell the difference between potato and cauliflower in my salads.
YES!! That makes me so happy.
Some of their past favorites are my Deviled Egg Cauliflower Salad, Cauliflower and Bacon Salad with Mustard Herb Vinaigrette, and Mediterranean Cauliflower Salad, which can be enjoyed raw or cooked!
One of the things I have realized when using cauliflower to sub for potatoes is that the stalk of the cauliflower is just as good as the florets. I used to automatically cut the stalk out and throw it away.
Why Bobbi? Why?
It cooks up as tender as the florets DUH right?
Also, make sure to chop it like you would potato. Try to stay as close to the same size as possible. I know that is hard and, by the looks of the above photo, I am not super great at it either but it cooked up nice and tender and worked perfectly.
WHAT INGREDIENTS DO YOU NEED TO MAKE BLT CAULIFLOWER SALAD?
Chopped cauliflower
Bacon
Grape tomatoes
Extra virgin olive oil
Leeks
Dill pickle relish
Zero carb mayonnaise
Mustard
Green onions
Sea salt
Black pepper
Leeks are my "L" for this salad.
TIPS ON COOKING WITH LEEKS
Cut the root ends and dull dark greens off.
Cut them in half lengthwise and then cut them into half-moons.
Submerge the chopped leeks into a bowl of cold water and swish them a bit to allow the dirt and grit that is between the leaves to release.
Use a slotted spoon to remove them from the water and place them on paper towels or a clean kitchen towel to squeeze the excess water off of them.
Saute "sweat" the chopped leeks until they begin to soften but not browned.
OTHER LOW CARB SUBSTITUTES FOR POTATO
Celery root (7 g carbs/42 calories per 1/2 cup)
To make chips out of celery root, peel and slice into chip-sized pieces. Boil in salted water for a couple of minutes then drain. Toss in oil, salt and pepper and spread the pieces into a single layer on a baking sheet or two. Roast for 30–35 minutes at 450 degrees F.
Daikon (2 g carbs/18 calories per 1/2 cup)
The daikon is in the radish family and is a staple in some Asian cuisines. It's great raw and pickled, but when it's cooked it takes on very potato-like qualities. Try it boiled or fried. Works great as a sub for potatoes in soups and stews.
Kohlrabi (2 g carbs/27 calories per 1/2 cup)
This strange-looking bulb has a delicate flavor that really comes to life when you boil, steam or fry it.
Rutabaga (5 g carbs/35 calories per 1/2 cup)
When a cabbage and a turnip fall in love, the result is this funny looking thing called a rutabaga. It's a great low carb replacement for potatoes. They're great in soups and stews and fantastic boiled, baked and roasted. They make awesome fries!
Turnips (4 g carbs/28 calories per 1/2 cup)
Try turnips mashed. They are a game-changer!
Zucchini (2 g carbs/20 calories per 1/2 cup)
Last, but not least, is the humble zucchini. We all know it is fabulous in soups, as "zoodles", baked, steamed, even baked as chips
WHAT RECIPES GO WELL WITH BLT CAULIFLOWER SALAD?
Instant Pot Mississippi Pot Roast Recipe
Grilled Ribeye Steaks with Aji Verde (Peruvian Green Sauce)
5 Easy Low Carb Marinade Recipes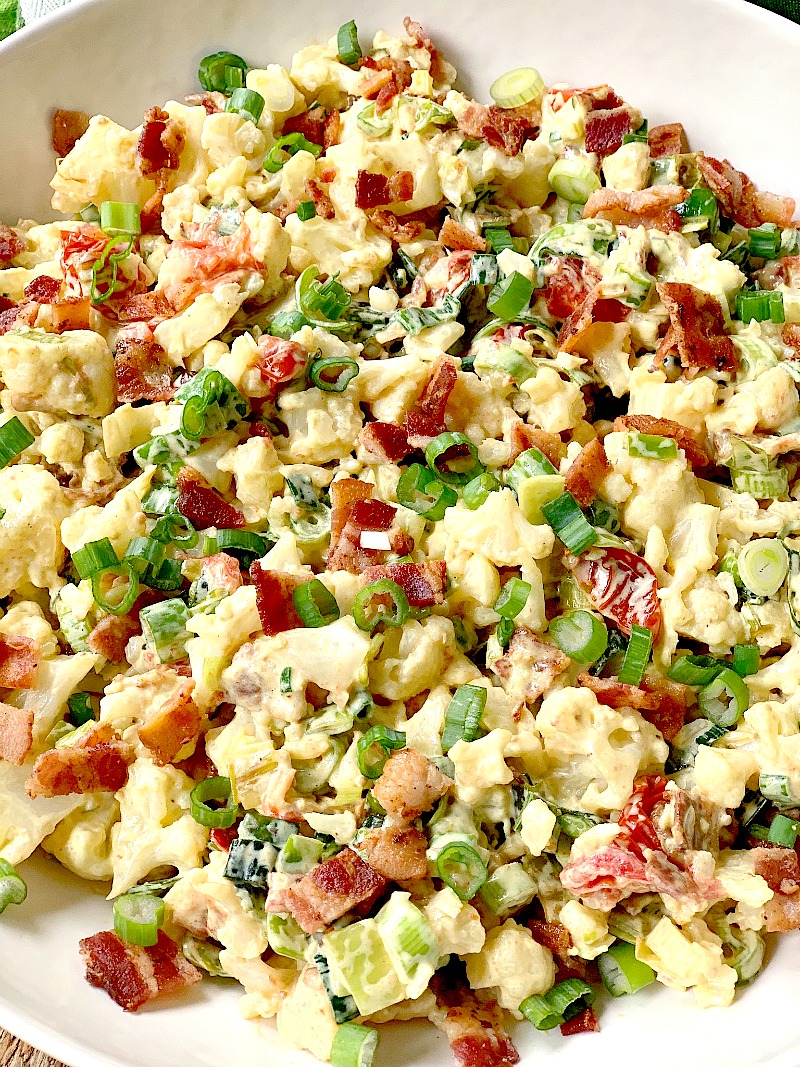 MORE DELICIOUS LOW CARB SIDE DISHES
Low Carb Cauliflower "Mac and Cheese"

Creamy Low Carb Cucumber Salad

Cheesy Grilled Cauliflower Steaks
Broccoli Salad with Bacon and Jalapeno
BLT Cauliflower Salad
Prep time: 15 M
Cook time: 30 M
Total time: 45 M
This BLT Cauliflower Salad recipe is the perfect low carb and keto-friendly replacement for traditional potato salad. It is the perfect side dish for SO many low carb mains and a favorite of my keto and non-keto friends and family!
Ingredients:
1 pound chopped cauliflower (1 large head)
8 slices thick-cut bacon, chopped
1-pint grape tomatoes halved
Extra virgin olive oil for drizzling
2 leeks, sliced in half and sliced into half-moons
2 tablespoon dill pickle relish
1/2 cup zero carb mayonnaise
2 tablespoons mustard
4 green onions, whites and greens sliced
Redmond's real sea salt
Fresh cracked black pepper
Instructions:
How to cook BLT Cauliflower Salad
Place the chopped cauliflower in a pot and cover with salted water. Bring the water to a boil and boil until tender, about 7 minutes. Drain the cauliflower and spread out on a baking sheet to cool.
Meanwhile, heat the oven to 375 degrees F.
Place the halved tomatoes on a baking sheet. Drizzle with a bit of olive oil and toss them. Lay them out in an even layer. Sprinkle with salt. Cook for 20 to 30 minutes, or until the tomatoes begin to slump.
Remove from the oven and allow to cool.
Cook the bacon in a large skillet over medium heat until crisp. Place the cooked bacon on a paper towel to drain, and reserve 2 tablespoons of the fat to cook the leeks in.
Place your sliced leeks into a large bowl filled with cold water, stirring them with your hand to separate the leaves and get the grit out. Use a slotted spoon, remove the leeks, shaking off the excess water.
Heat the bacon fat over medium heat and cook the leeks until they are translucent and tender. Set aside to cool
In a large bowl, mix the pickle relish, mustard, mayonnaise, salt, and pepper. Set aside.
Mix the cauliflower with the green onions, crumbled bacon, leeks, and roasted tomatoes. Add to the sauce.
Combine well and salt and pepper to taste.
Calories
198.63
Fat (grams)
16.73
Sat. Fat (grams)
3.35
Carbs (grams)
7.20
Fiber (grams)
2.41
Net carbs
4.79
Sugar (grams)
3.10
Protein (grams)
6.11
Sodium (milligrams)
418.94
Cholesterol (grams)
17.66
Keto, Low Carb, Salad, Gluten-Free, Cauliflower
Side Dish
American
Did you make this recipe?
Snap a pic and tag
@BobbisKozyKtchn
on Instagram and hashtag it #BobbisKozyKtchn
Planning on making one of my recipes? Nothing would make me happier! Take a photo and share it on Instagram or Twitter and tag @BobbisKozyKtchn I would love to see what you made. You might even make it into our newsletter!!
Thank you for reading and supporting the companies I partner with. Doing so allows me to create more unique content and recipes for you.
This post contains affiliate links. As always, all opinions are my own.