Enjoy the flavor of ripe summer cantaloupe all year long with this deliciously sweet and slightly salty sugar-free cantaloupe jelly.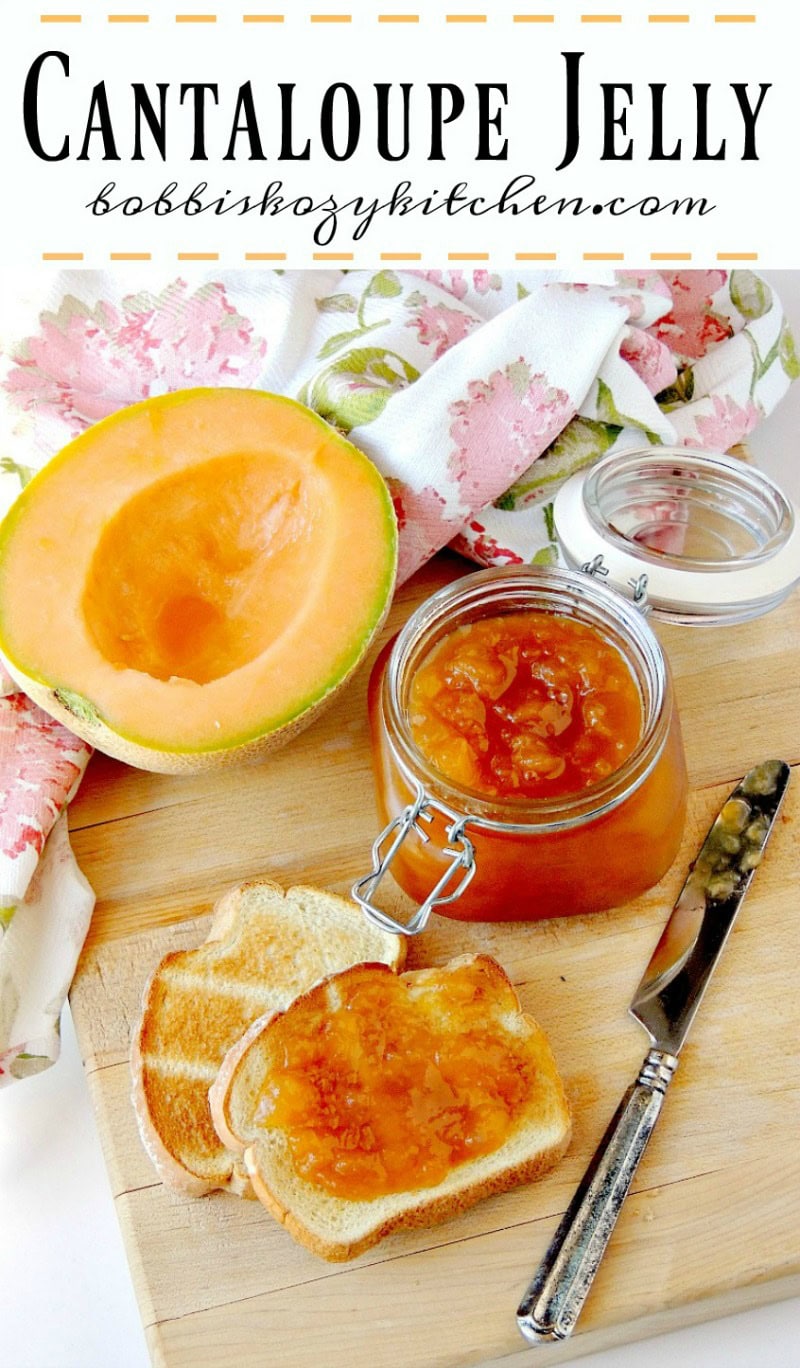 Friends, can we talk here? This jelly….OhhEmmGeeeee……THIS JELLY!!
It is so easy, and soooo good!
This is everything you love about slurping up mouthfuls of that salted, sweet, juicy cantaloupe, just in jelly form. You spread it on a nice warm piece of toast and are in heaven!
Summer is hanging on here, or should I say it has finally gotten here?
We have been dealing with temps in the 90's! Tell me this Washingtonian hasn't been dying. When I lived in So Cal I could deal with heat. But now? Holy crap!
I am so acclimated that 80 has me panting like a dog. When it is in the 90's I am sitting in front of the fan melting like an ice cube in the Sahara!!
My son moved and had his old window air conditioner lying around, so we loaded it up and brought it over here.
THANK.THE.LAWD!!
We had that baby cranked up to sub-zero with fans blasting it into the living room like Mr. Freeze on steroids!
The dogs were battling it out with us for the prime real estate, which was the sofa because that was the best place to feel the cold air.
It was like musical chairs. One person got up, and another body hopped in. I went to the kitchen and came back to find Rocky, our boxer, sitting in my place. He looked at me like "Move your meat, lose your seat"
I, of course, let him sit there #spoiledmuch
My consolation? Heading back into the kitchen to devour more of this delicious jelly!
Although I may have been seen eating it by the spoonful, it really is perfection on a piece of toast. I use
this low-carb bread
for that.
So get out and grab some of those delicious cantaloupes before they are gone, and make a butt-ton of this jelly!!
Now I can enjoy a bit of summer in the middle of winter!!
Like what you see? Please leave me a comment!
Planning on making one of my recipes? Nothing would make me happier! Take a photo and share it on Instagram or Twitter and tag @BobbisKozyKtchn I would love to see what you made. You might even make it into our newsletter!!
Thank you for reading and supporting the companies I partner with. Doing so allows me to create more unique content and recipes for you.
This post contains affiliate links. As always, all opinions are my own.