This Italian Grinder Salad combines all the ingredients of an Italian sub sandwich in a delicious low carb bowlful.
Looking for more low carb and keto salad recipe ideas? Give this Keto Bacon Ranch Chicken Salad or Big Mac Salad in a Jar a try!
This post contains affiliate links. As an Amazon Associate, I earn from qualifying purchases. Doing so allows me to create more unique content and recipes for you.
Join my newsletter and never miss a recipe!
MORE KETO & LOW CARB SALAD RECIPES
Keto Asian Rainbow Noodle Salad | Loaded Broccoli Salad
Like many of you, I am sure, I saw the viral TikTok grinder sandwich going around that is all about the Italian-inspired lettuce salad you put on it.
People were going crazy for it. I was going crazy for it.
But, being that I am living la vida low carb over here I thought I would just quietly drool to myself and that would be that.
Then the hubs requested a new lunch idea and the light bulb suddenly went off in my head.
He is not keto but he is trying to eat a bit healthier and that includes cutting as much bread out of his diet as possible. So, I thought why not make this as a main dish and not just an addition to a sandwich? I could give him that potable sandwich taste without using bread.
Why do I only think of these things for other people and not myself?
I fell in love with this salad at the first bite but was holding my verdict until I saw what the Mr's reaction was.
He quietly devoured a 16-ounce container of it.
No joke, he didn't even come up for air really!
He then looked at me and said, "Can you make that every week?".
Yes, yes I can!!
But no joke my friends, this salad is THAT good!
I use shaved Brussels sprouts because they are sturdier than iceberg lettuce so they won't get super wilted and soggy if this salad sits in the refrigerator for a couple of days. Even if you are not a huge fan of Brussels sprouts I suggest giving this salad a try with them.
That makes this the perfect lunch meal prep idea too.
The dressing is a super easy blend of mayo, vinegar, spices, and some pepperoncini peppers along with some of their juice that really kicks the dressing up and takes it to a whole new level in my opinion.
The salad itself is all about you and your tastes so feel free to customize it as you see fit. Grab your favorite sandwich ingredients and go to town!
I used ours which are lettuce, tomato, onion, ham, salami, and provolone cheese. You can add olives, you can change up the meat, you can add additional cheese, it is all about you here.
Don't forget to top it with fresh Parmesan cheese!!
INGREDIENTS NEEDED TO MAKE AN ITALIAN GRINDER SALAD
Detailed measurements and instructions can be found on the printable recipe card at the bottom of the page.
INGREDIENTS:
For the dressing:
Keto mayonnaise
Red wine vinegar
Pink sea salt
Italian seasoning
Garlic paste
Peperoncini peppers + juice
Parmesan Cheese
For the salad:
Brussels sprouts
Salami
Ham
Provolone cheese
Red onion
Grape or cherry tomatoes
HOW TO MAKE AN ITALIAN GRINDER SALAD
STEP 1
In a small bowl combine the ingredients for the dressing. Set aside.
STEP 2
Add the shredded Brussels sprouts, salami, ham, provolone cheese, red onion, and tomatoes to a large bowl.
STEP 3
Toss everything together until well combined.
STEP 4
Top with extra Parmesan cheese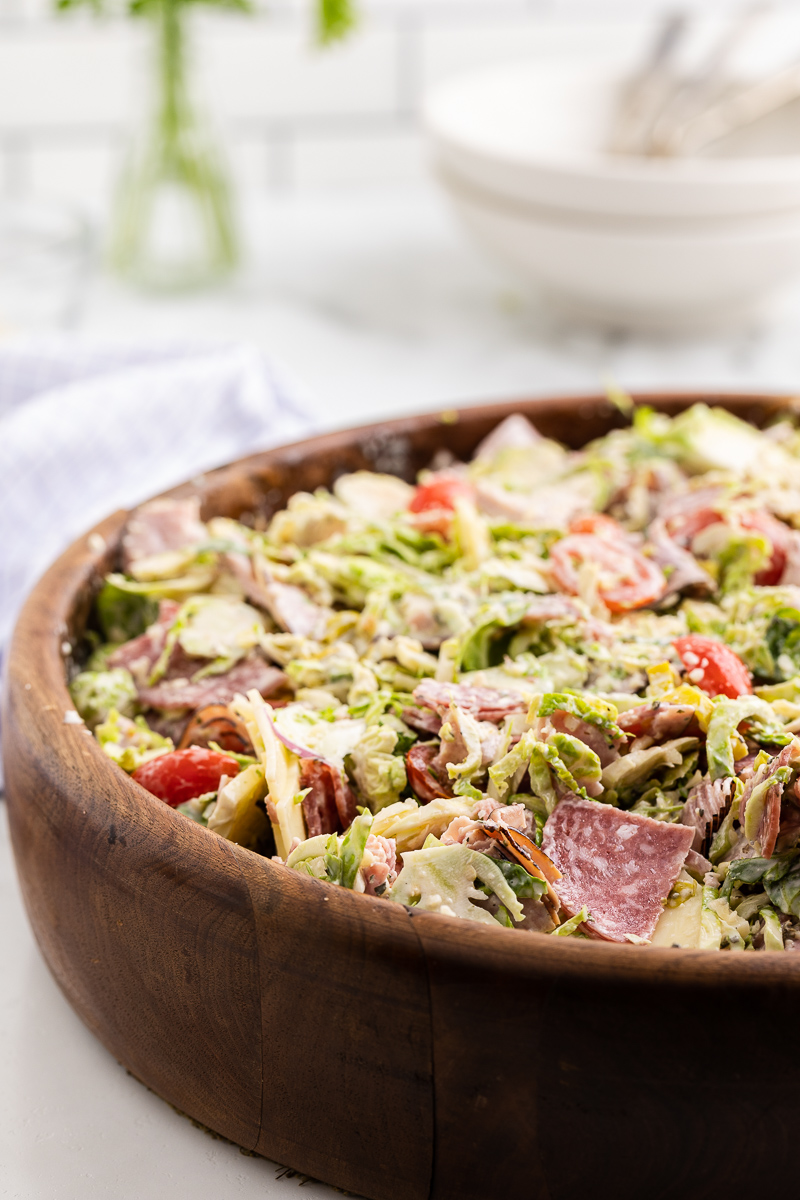 FAQS ABOUT THE ITALIAN GRINDER SALAD
What is an Italian Grinder?
There is a lot of speculation on exactly where the term "grinder" comes from. Some say it refers to the dock workers that were referred to as grinders. Others say that it is likely attributed to thick crusty bread. In other words, the sandwich can be tough to consume, therefore needing to "grind" your teeth to eat it.
Can I use a different lettuce/green in this Italian Grinder Salad?
As I said above, I chose Brussels sprouts because they are a sturdy green that I knew would stand up to the dressing and not become super soggy if stored in the refrigerator for a few days. Because they are shaved, and the dressing has so much flavor, I don't feel that the taste of Brussels sprouts is pronounced in this salad at all. But, if you seriously hate Brussels sprouts, I would suggest another sturdy green that you enjoy like possibly kale or even Romain lettuce.
How long does this Italian Grinder Salad last in the refrigerator?
I store this Italian Grinder Salad in an airtight container in the fridge for up to 5 days.
Last thoughts and tips for Italian Grinder Salad
As I said above this salad is so good we eat it just about every week!
The great thing is you can customize this salad however you want so you will never get board.
Swap out the Salami and ham for smoked chicken or turkey and capicola, pepperoni, or roast beef, whatever your heart desires.
I used tomatoes and red onion in this particular salad but you could add olives and bell peppers.
The cheese can also be whatever you enjoy, or even two types of cheeses. Provolone is my favorite sandwich cheese but you can use cheddar, mozzarella, or even American.
You could also top this with something crunchy like parmesan crisps.
MORE KETO AND LOW CARB RECIPE IDEAS
If you like this recipe please leave a comment!
If you make this recipe, take a photo and share it on Instagram with the hashtag #BobbisKozyKtchn I love to see what you make. You might even make it into our newsletter!!
Thank you for reading and supporting the companies I partner with. Doing so allows me to create more unique content and recipes for you.