This post may contain affiliate links. As an Amazon Associate, I earn from qualifying purchases. Doing so allows me to create more unique content and recipes for you.
Happy 4th of July to my American peeps! I hope y'all are enjoying a ton of delicious food with your family and friends.
We are heading over to the in-law's house for a BBQ with all of the grandparents and kiddos. This will be the first year that the G-baby will really get to see the fireworks, and I am excited to see how she reacts.
She is a bit of a daredevil so I think she will be OK with them.
Of course, when the whole family gets together, we all bring dishes to share.
I usually bring my Deviled Egg Potato Salad, Farmer's Market Potato Salad, Loaded Baked Potato Salad, Classic Macaroni Salad, Kitchen Sink Macaroni Salad, or Elote (Mexican Street Corn) Pasta Salad.
But this year I wanted to try something different.
I tried to think of something that we would all like. Something that I could mash up with potato salad and make it uber yummy.
That was when I thought about roasted jalapenos.
During the summer, when we are grilling nearly every day, we are always roasting jalapenos. We love them on our burgers, with our steak, with....well, we love them with just about everything.
So I thought why not incorporate them into a potato or pasta salad? Right? It seemed only logical.
Kevin called while I was making the first batch. I told him what I was making and he said to make sure to save some for him.
Did he think I was going to eat the whole batch by myself?
Sheesh!
I should have hidden it and when he got home and when he asked me where it just said "Oops".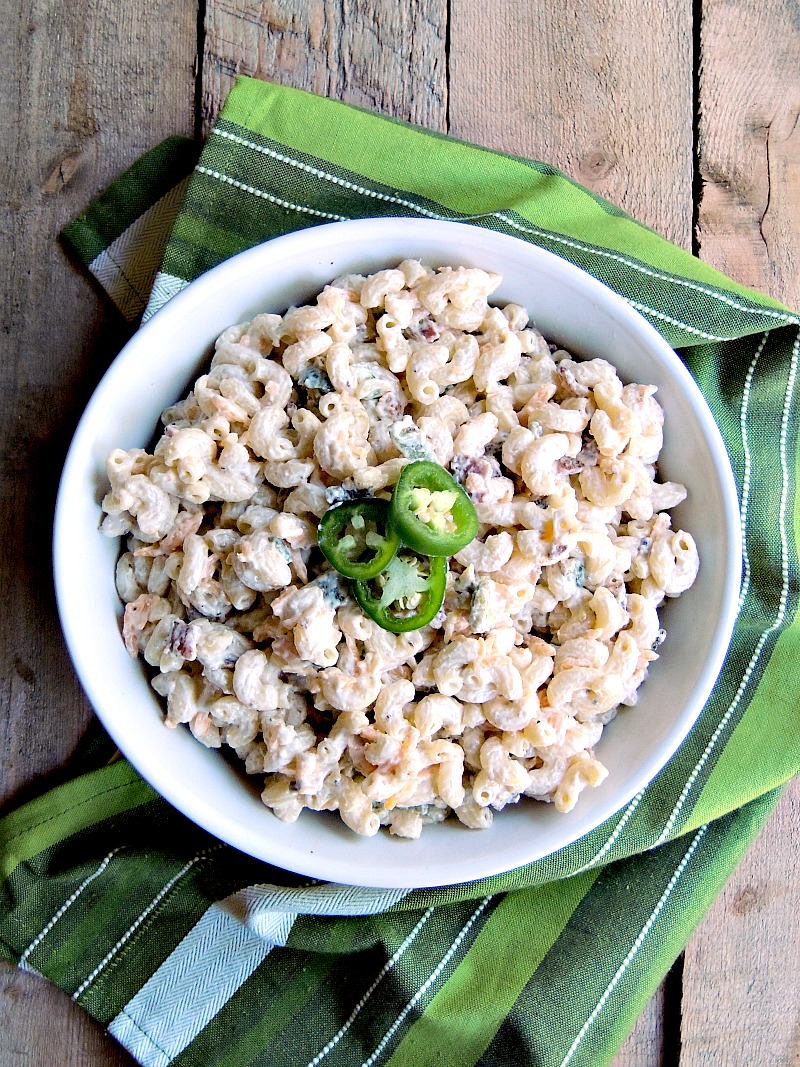 But I was nice and got him a bowlful as soon as he got home.
He downed it in record time!
And went in for more.
I guess that means he liked it eh?
That and the fact that he has requested it several times in just the last month.
I hope the rest of the family feels the same but I know that, if they don't, there won't be anything wasted because Kevin will eat it all by himself!
Yield: 8 to 10 servings
Jalapeno Popper Pasta Salad
All of the flavors of your favorite appetizer come together in this delicious pasta salad that is perfect for your next picnic or BBQ.
prep time: 20 MINS
cook time: 10 MINS
total time: 30 mins
INGREDIENTS:
6 Large Jalapenos, halved with the seeds, and ribs removed
2 tablespoons olive oil
6 slices bacon, diced
16 ounces elbow macaroni
1/2 cup whipped cream cheese
1 1/2 cup Greek yogurt
1 teaspoon garlic Powder
1 teaspoon onion Powder
Kosher salt
Fresh cracked black pepper
1 1/2 cup shredded cheddar cheese
INSTRUCTIONS
Place oven rack at the top of the oven, and set the oven to broil.
Toss the jalapenos with the olive oil to lightly coat.
Place the jalapenos on a rimmed baking sheet, and broil for 10 minutes, or until the skins begin to char.
Place the roasted jalapenos in a zipper top bag, seal, and allow to cool for at least 20 minutes.
Remove the skins from the cooled jalapenos, and chop.
Meanwhile, cook macaroni to package instructions and cook the bacon, over medium heat, until it is crisp. Remove the bacon with a slotted spoon to a paper towel-lined plate to drain.
Add the cream cheese while pasta is still warm. Let cool then add bacon, cheddar cheese, Greek yogurt, garlic powder, onion powder, salt, pepper and roasted jalapenos.
Store in refrigerator in an airtight container until served.
All recipes and their respective images are original and the sole property of Bobbi's Kozy Kitchen © 2011-2017, with all rights, reserved.
I helped create a cookbook!
Do You Shop Amazon?
Help support this blog by starting your Amazon shopping here. THANK YOU!!
Like what you see? Please leave me a comment!
Planning on making one of my recipes? Nothing would make me happier! Take a photo and share it on Instagram using the hashtag #BobbisKozyKtchn I would love to see what you made.
Thank you for reading and supporting companies I partner with. Doing so allows me to create more unique content and recipes for you.
This post contains affiliate links. As always, all opinions are my own.