This post may contain affiliate links. As an Amazon Associate, I earn from qualifying purchases. Doing so allows me to create more unique content and recipes for you.
Elevate your feasts with a homemade Keto Green Bean Casserole, merging tradition with a keto-friendly touch. Enjoy the nostalgia of this classic dish while staying low-carb, gluten-free, and incredibly flavorful. Perfect for festive gatherings or year-round meals! Dive into this creamy, delightful casserole brimming with taste and fewer carbs. It is an ideal addition to your holiday table.
Join my newsletter and never miss a recipe!
🥗🌟 Get ready to transform your holiday dishes with this homemade Keto Green Bean Casserole!
As a food blogger, crafting a spread that balances tradition and new flavors is always a delightful challenge, especially after transitioning to a low-carb lifestyle. Green bean casserole holds a special place in my heart, evoking memories from childhood feasts. Yet, traditional recipes featuring canned soup no longer fit my low-carb journey.
This year, trying out a low-carb version for Thanksgiving, I aimed to recreate the nostalgia of this beloved dish. The feedback from my husband's colleagues at their company Thanksgiving was overwhelmingly positive—the dish disappeared in a flash! Their response indicated I was on the right track.
I opted for canned green beans for convenience, but fresh or frozen work perfectly, with a suggested increase in cooking time for optimal tenderness.
As for the French's Fried Onions, their high carb content led me to create a homemade keto version. The process was a labor of love but resulted in an aromatic delight during baking. The house smelled incredible, and it received high praise from family members.
While the dish may not win awards for presentation, its creamy texture and fantastic taste truly shine through. And speaking of taste, the low-carb version holds a winning hand against the traditional recipe, offering fewer net carbs while maintaining richness and flavor.
If you're looking for a more carb-friendly alternative, this recipe is a wonderful addition to a low-carb/high-fat diet. Whether served during holiday meals or throughout the year, this keto rendition retains the essence of the classic dish while catering to dietary preferences.
In the end, it's the creamy delight and delicious flavors that matter most, making this homemade Keto Green Bean Casserole a warm and comforting addition to any festive spread!"
Jump to:
🥘Keto Green Bean Casserole Ingredients
These are the ingredients necessary to make Keto Green Bean Casserole.
Green Beans - I use canned to make things easy.
Keto Cream of Mushroom Soup - this recipe makes a quick and easy condensed cream of mushroom soup that is 10 times better than the canned without the carbs.
Keto Fried Onions - these keto fried onions give your recipe the classic onion crunchy topping without the carbs.
A detailed list with measurements and instructions can be found on the printable recipe card at the bottom of the page.
🔪Keto Green Bean Casserole Instructions
This is a basic breakdown of the steps involved in making Keto Green Bean Casserole. You will find the full directions in the recipe card at the bottom of the post.
Add the soup mixture to the mushrooms and stir to combine.
Pour half of the mushroom soup mixture into the bottom of a 2-quart baking dish and spread it out evenly.
Top with the drained green beans.
Then pour the remaining soup mixture on top, spreading it out with a rubber spatula.
Helpful Hint: 💡: Consider patting the canned green beans dry before layering them in the casserole. Removing excess moisture from the beans can prevent the dish from becoming overly watery and help maintain a desirable texture.
📖Variations
Cheese Lover's Twist: Incorporate shredded cheese between the layers or on top of the casserole before baking. Cheddar, Parmesan, or a blend of your favorite cheeses can add extra richness and flavor.
Crispy Bacon Addition: Fry or bake some bacon until crispy, crumble it, and sprinkle it over the casserole before serving. Bacon adds a savory crunch and an extra layer of taste.
Fresh Herb Infusion: Enhance the flavors with fresh herbs. Adding a sprinkle of chopped parsley, thyme, or rosemary to the mushroom soup mixture or on top can elevate the dish's overall taste.
Almond Flour Topping: Create a topping using a mixture of almond flour, butter, and a pinch of seasoning to replace or complement the fried onions. Sprinkle this over the casserole for a low-carb, crunchy alternative.
Veggie Medley: Mix in additional low-carb vegetables such as bell peppers, broccoli, or cauliflower to the casserole for added variety and nutrients.
Spice It Up: For a kick of heat, incorporate a dash of cayenne pepper or red pepper flakes into the mushroom soup mixture to give the casserole a spicy dimension.
🍽Equipment
This is the equipment you will need to make Keto Green Bean Casserole.
Storage
Refrigerator: Once the Keto Green Bean Casserole has cooled completely, transfer any leftovers into an airtight container. Store it in the refrigerator for up to 3 to 4 days. Make sure to refrigerate within two hours of cooking to maintain freshness.
Freezer: This casserole can be frozen for longer-term storage. Place the completely cooled casserole in a freezer-safe container or resealable freezer bag, ensuring it's airtight to prevent freezer burn. It can last in the freezer for up to 2 to 3 months. When ready to use, thaw it in the refrigerator overnight before reheating.
Always label your containers with the date to keep track of freshness. Additionally, it's ideal to divide the casserole into smaller portions before freezing to make defrosting and reheating more manageable.
💭Top tip
Experiment with different types of mushrooms to add variety to the casserole. Combining different varieties like shiitake or oyster mushrooms with cremini can create an interesting depth of flavors and textures in the dish.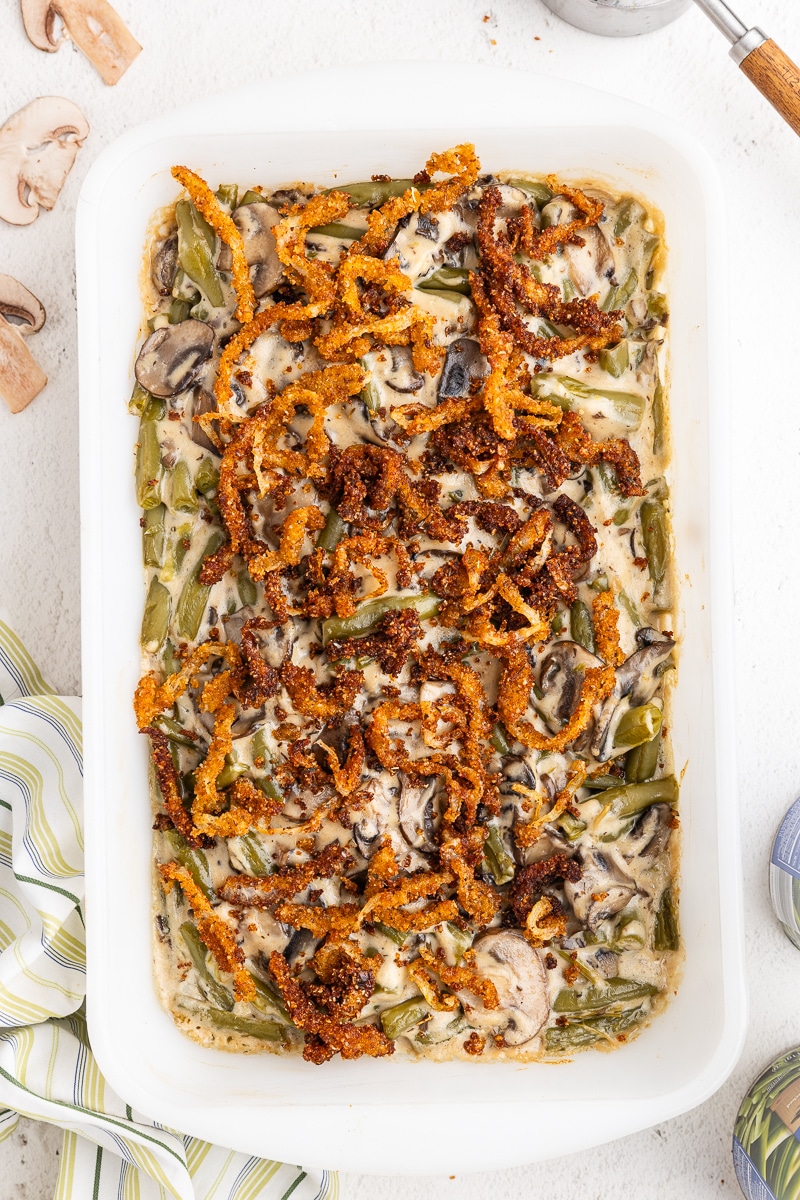 FAQ about Keto Green Bean Casserole
Can I use fresh green beans instead of canned in this recipe?
Yes, fresh green beans can be used. If using fresh beans, consider blanching or steaming them slightly before assembling the casserole to ensure they are tender during baking. Otherwise, increase the cooking time.
Can this Keto Green Bean Casserole be made ahead of time?
Yes, you can prepare this casserole a day in advance and refrigerate it before baking. Let it sit at room temperature for a bit before baking to ensure even cooking.
Can I add other vegetables to the casserole?
Absolutely! Feel free to add other low-carb vegetables such as cauliflower, broccoli, or bell peppers to the casserole for added variety and nutrition.
Related Recipes
Looking for other recipes like this? Try these:
Pairing
These are my favorite dishes to serve with Keto Green Bean Casserole:
Keto Green Bean Casserole
This Keto Green Bean Casserole merges tradition with a keto-friendly touch. Enjoy the classic dish while staying low-carb and gluten-free.
Ingredients
2

tbsp

unsalted butter

8

ounces

cremini mushrooms

sliced

fresh cracked black pepper

1/2

cup

heavy cream

2

15-ounce cans of green beans

drained

1/2

cup

keto fried onions
Instructions
Preheat the oven to 350 degrees F.

Heat the butter in a skillet, over medium heat.

Add the sliced mushrooms to the skillet and stir to combine with the melted butter. Continue to cook the mushroom, stirring occasionally, until brown and reduced in size by half, about 5 to 7 minutes.

Meanwhile, heat the condensed soup in a small saucepan over medium heat. Once it begins to warm, slowly stir in the heavy cream. Taste and adjust seasoning if needed.

Add the soup mixture to the mushrooms and stir to combine.

Pour half of the mushroom soup mixture into the bottom of a 2 quart baking dish and spread it out evenly.

Top with the drained green beans and then pour the remaining soup mixture on top, spreading it out with a rubber spatula.

Place in the oven and bake for 20 minutes, then scatter the fried onions over the top of the casserole and continue to cook for another 5 to 10 minutes, or until the casserole is bubbly.

Remove from the oven and allow to cool for a few minutes before serving.
Disclaimer
Most of my recipes are low-carb (or keto) and gluten-free, but some are not. Please verify that a recipe fits your needs before using it. Recommended and linked products are not guaranteed to be gluten-free. Recipes may contain errors, so please use your common sense when following them. Nutritional information is provided as a courtesy and is approximate only. We cannot guarantee the accuracy of the nutritional information given for any recipe on this site. Erythritol carbs will not be included as it has a glycemic index of 0 (meaning it does not spike blood sugar) and it's not metabolized. Net carbs are the total carbs minus fiber.
Nutrition
Calories:
200
kcal
Carbohydrates:
11
g
Protein:
5
g
Fat:
16
g
Saturated Fat:
10
g
Polyunsaturated Fat:
1
g
Monounsaturated Fat:
4
g
Trans Fat:
0.2
g
Cholesterol:
52
mg
Sodium:
47
mg
Potassium:
408
mg
Fiber:
4
g
Sugar:
5
g
Vitamin A:
1302
IU
Vitamin C:
13
mg
Calcium:
65
mg
Iron:
1
mg
Food safety
See more guidelines at USDA.gov.
If you like this recipe please leave a comment!
If you make this recipe, take a photo and share it on Instagram with the hashtag #BobbisKozyKtchn I love to see what you make. You might even make it into our newsletter!!
Thank you for reading and supporting the companies I partner with. Doing so allows me to create more unique content and recipes for you.